Top News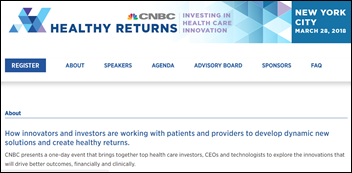 CNBC looks to break into the healthcare conference business with an event focused on investing in healthcare innovation. Healthy Returns will take place March 28 in New York City.


The media company, which seems to have increased its healthcare technology coverage since bringing on reporter Chrissy Farr in April, has appointed such health IT luminaries as Eric Topol, MD and 23andMe founder and CEO Anne Wojcicki to its conference advisory board. The conference website seems sparse on programming right now. No doubt the media outlet is looking to attract new advertisers with related digital and televised content.
---
Webinars


November 30 (Thursday) 1:00 ET. "Making Clinical Communications Work in Your Complex Environment." Sponsored by: PatientSafe Solutions. Presenters: Steve Shirley, VP/CIO, Parkview Medical Center; Richard Cruthirds, CIO, Peterson Health. Selecting, implementing, and managing a mobile clinical communications platform is a complex and sometimes painful undertaking. With multiple technologies, stakeholders, and disciplines involved, a comprehensive approach is required to ensure success. Hear two hospital CIOs share their first-hand experience, lessons learned, and demonstrated results from deploying an enterprise-wide mobile clinical communications solution.
December 5 (Tuesday) 2:00 ET. "Cornerstones of Order Set Optimization: Trusted Evidence." Sponsored by: Wolters Kluwer. Updating order sets with new medical evidence is crucial to improving outcomes, but coordinating maintenance for hundreds of order sets with dozens of stakeholders is a huge logistical challenge. For most hospitals, managing order set content is labor intensive and the internal processes supporting it are far too inefficient. Evidence-based order sets are only as good as their content, which is why regular review and updates are essential. This webinar explores the relationship between clinical content and patient care with an eye toward building trust among the clinical staff. Plus, we will demonstrate a new evidence alignment tool that can easily incorporate the most current medical content into your order sets, regardless of format, including Cerner Power Plans and Epic SmartSets.
Previous webinars are on our YouTube channel. Contact Lorre for information.
---
Announcements and Implementations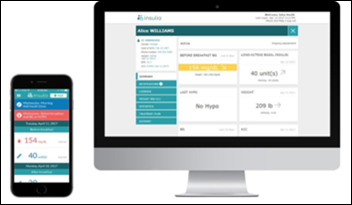 Onduo will integrate digital insulin recommendations from Voluntis with its virtual diabetes platform, which helps diabetics manage their conditions via wireless glucose monitors, software, and personalized coaching. Onduo got its start last year as a joint venture between Verily and Sanofi.
---
People

InfoMC promotes Jeff Branagh to COO.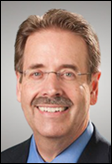 Healthcare consulting firm Sullivan, Cotter, and Associates hires Mark Rumans, MD (Vidant Health) as CMO.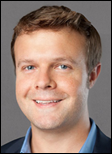 Doctor on Demand founder Adam Jackson (Dopamine Labs) joins cryptocurrency-based investment firm Cambrian Asset Management as CTO.


ZappRx brings on James Cornicelli (UCB Biopharma) as VP of corporate strategy, and Rich Kramer (Upfront Healthcare) as VP of commercial operations.
---
Telemedicine
Telemedicine is the top use case for embedded video across all industries, according to a small Vidyo survey of executives and engineers.
---
Government and Politics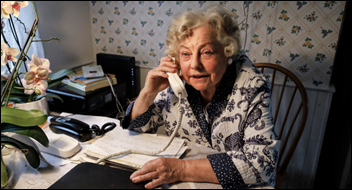 A New Hampshire judge rules that 84-year-old Anna Konopka, MD cannot renew her medical license. She claims that state regulators forced her to give up her license over her unwillingness to use a computer and, as a result, her inability to comply with the state's mandatory PDMP policies. The license hand-over also seems to be connected to a recent disciplinary hearing with the state licensing board brought on by several patient complaints of inappropriate treatment.
---
Research and Innovation
Google researchers develop software for the Google Pixel smartphone that can detect when a second set of eyes is looking at the phone's screen. The researchers contend their gaze-detection software may be ideal for reading sensitive information or watching video in a public space.
---
Other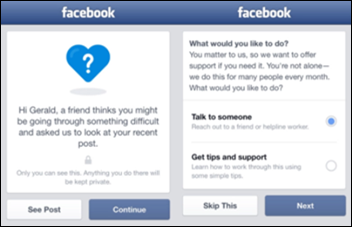 Facebook will roll out its suicide-detection software to countries beyond the US, where it began piloting the technology in March. The AI-based software alerts specially trained Facebook staff in real time when a user posts suicidal messages, who then contact local authorities. First responders have checked in on people over 100 times in the last month based on Facebook software alerts.
#GivingTuesday: The AMA continues to accept donations for practices affected by this year's spate of natural disasters. The AMA Foundation's Physician Disaster Recovery Fund has already given out $75,000 to practices impacted by Hurricanes Harvey, Irma, and Maria; and $150,000 to general relief efforts in Florida and Louisiana.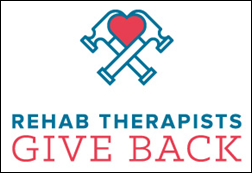 Specialty EHR and PM vendor WebPT encourages users to donate to Rehab Therapists Give Back, a charity also working to help providers affected by recent hurricanes and wildfires.
---
Contacts
More news: HIStalk, HIStalk Connect.
Get HIStalk Practice updates.
Contact us online.
Become a sponsor.