Top News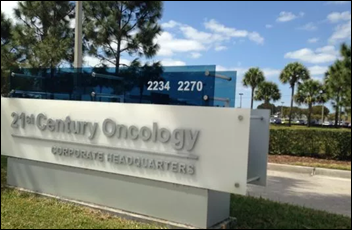 21st Century Oncology again finds itself in hot water: The chain of treatment centers faces a lawsuit that claims the company illegally paid bonuses to physicians who referred patients to testing labs owned by the company. The lawsuit, recently unsealed, was filed last year by former 21st Century Oncology Interim VP of Financial Planning Matthew Moore, who after comparing physician salaries and bonuses with billings, found an $8.7 million discrepancy.
The Fort Myers, FL-based company, which has agreed to settle for $26 million, hasn't had much positive press of late. It filed for bankruptcy six months ago, and suffered a 2016 data breach that exposed over 2 million records and led to 13 federal class action lawsuits.
---
HIStalk Practice Musings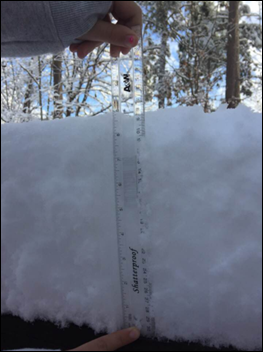 This past weekend saw my neck of the woods inundated with up to 13 inches of pretty/destructive snow. My neighborhood in particular saw nine-plus inches, multiple trees (and fences) felled, and power outages that crossed the 24-hour mark. It's certainly the first time in my living memory that I can recall getting this much snow in December, and it's definitely made me aware of the emergency supplies I need to have on hand for severe weather events. Friends in northern climes, what items do you make sure to have on hand during winter storms? I couldn't help but marvel that we were dealing with such unexpected wintry conditions while folks in California were dealing with devastating wild fires.
---
Webinars
None scheduled soon. Previous webinars are on our YouTube channel. Contact Lorre for information.
---
Announcements and Implementations

Solutionreach announces SR Schedule, which allows physician practices to offer the patients easy self-scheduling.

Rennova Health's Medical Mime subsidiary updates its M2Select EHR to offer practice staff and behavioral healthcare providers more efficient management of patient forms.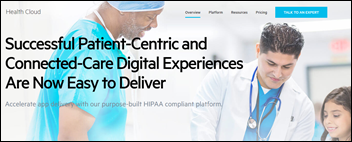 Bedford, MA-based Progress launches a HIPAA-compliant, cloud-based platform for health app development and EHR integration.
---
Acquisitions, Funding, Business, and Stock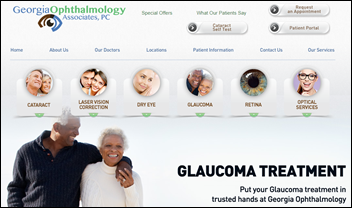 Eye care physician services organization EyeSouth Partners adds Georgia Ophthalmology Associates to its network of 30 providers working at 20 locations across Georgia. Backed by private equity firm Shore Capital Partners, EyeSouth provides affiliated practices with working capital, operating strategy and resources, and IT expertise.
---
People


Relapse prevention technology company Chess Mobile Health rebrands to Chess Health and names Hans Morefield (Experian Health) CEO. Former CEO Chris Wilkins will transition to an advisory role as the company expands its offerings to include analytics and benchmarking.
---
Government and Politics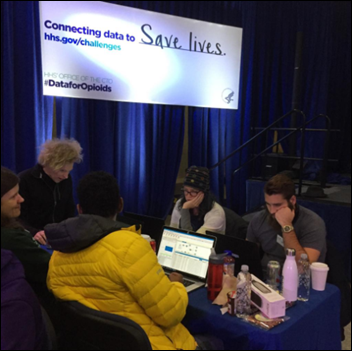 HHS announces the three winning teams of its first opioid-focused code-a-thon, each of which received $10,000. The winning Opioid Prescriber Awareness Tool may be of the most interest to physicians. Developed as part of the competition's usage track, it provides visual representations of physician prescribing patterns for a given area – particularly useful for referring physicians who want to avoid sending their patients to colleagues who may be a little too quick to write an opioid script.
---
Telemedicine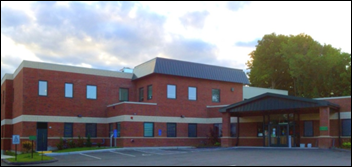 The Community Health & Wellness Center of Greater Torrington (CT) will use a $1 million loan from New York-based Primary Care Development Corp. to expand its use of telemedicine, particularly for pain management patients; to hire additional staff, and add more educational programs. The center's spending plans are part of an overall initiative to integrate behavioral health with primary care services.
---
Research and Innovation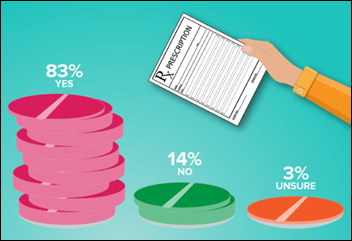 A new MGMA poll finds that 83 percent of 409 respondents have implemented stricter opioid prescription protocols, primarily as a result of increases in opioid abuse, regulatory changes, and new guidelines. It would be interesting to find out if there's any correlation between physicians who have tightened up protocols and their level of access to/utilization of a PDMP.
---
Other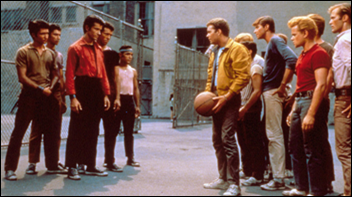 A Malwarebytes report deems hackers to be modern-day mafioso, categorizing them into four groups – hackers-for-hire, ideological hackers, state-sponsored hackers, and traditional gangs. (I can't quite wrap my head around the cyber version of a Jets versus Sharks showdown.) The "new cyber mafia," as the report calls the perpetrators, helped cyberattacks increase 23 percent over 2016. Ransomware attacks increased by 62 percent for the first 10 months of the year.

A trip to the gas station turns into an unexpected labor of love for obstetrician Javier Soto, MD. On his way to deliver a baby at nearby Rockledge Regional Medical Center (FL), Soto was waylaid in the parking lot by a frantic father-to-be whose wife was already in labor. Soto delivered the baby in the car using scissors, food prep gloves from the gas station, and the father's shoelace. He then followed the new family to Rockledge for follow-up, and to deliver the initial reason for his trip.
---
Sponsor Updates
Nordic releases a new podcast, "Consolidating your EHR after a merger or acquisition."
Blog Posts
---
Contacts
More news: HIStalk.
Get HIStalk Practice updates.
Contact us online.
Become a sponsor.