Top News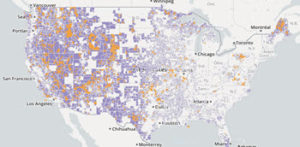 The FCC identifies  nearly 1 million homes and small businesses across largely rural areas of the continental US that are eligible for up to $2 billion for broadband deployment over the next 10 years as part of its Connect America Fund. That money will be awarded to those companies who bid to install the services at lowest cost. "Closing the digital divide is my number one priority," says FCC Chairman Ajit Pai (who is still suffering fall out from pushing through repeal of net neutrality), "and through this innovative Connect America Fund auction, we are poised to take the next big step in reaching that goal. In rural America, broadband opens the doors of opportunity by connecting remote communities to global markets, jobs, education, healthcare and information."
---
Webinars
None scheduled in the coming weeks. Previous webinars are on our YouTube channel. Contact Lorre for information.
---
Announcements and Implementations

OpenEMR announces availability of its open source Cloud Express EHR on the AWS Marketplace.
B Golden Care Services (TX) selects chronic care management technology from Reliq Health Technologies.
---
Acquisitions, Funding, Business, and Stock

Veriheal (fka OnePath Medical) will offer online appointment scheduling for its three new medical marijuana offices in Montana. The company, which also has locations in Maryland, New York, and Pennsylvania, also offers a white-label telemedicine solution for providers in telemedicine-friendly states looking to connect patients with appropriate medical marijuana treatment virtually.
PM and EHR vendor ICoreConnect acquires coding and documentation improvement company ICDLogic for an undisclosed sum. This marks the second acquisition for ICoreConnect; it bought IPenMD Solution in 2013 – the same year ICDLogic opened for business.
---
Government and Politics
As expected, Congress passes the tax reform bill along party lines, including a repeal of the ACA individual mandate. Commonwealth Fund President and former National Coordinator David Blumenthal, MD has penned a summary of the bill's healthcare implications in the Harvard Business Review.
---
Telemedicine
Just in time for reading over the holiday break, the Center for Connected Health publishes its annual review of state-based telemedicine legislation. Thirty-five states (seven more than 2016), some with multiple entries, are featured.
---
Research and Innovation
The American Academy of Pediatrics selects Physician's Computer Company to assist with its research on childhood obesity. PCC has already recruited 18 pediatric practices for the two-year study, and will also manage data extraction and sharing of health data between the practices and the AAP. "So much of what we have to deliver to pediatricians is about a government or insurance requirement," says PCC Director of Pediatric Solutions Chip Hart, "so we're delighted to be able to focus on the patients for once. We were also really impressed with our clients' reaction to this opportunity – they have to do a lot of free work, but they do it because they are pediatricians."
---
Other
Local public radio looks at the way the delivery of mental healthcare is being reimagined in Austin, TX. Travis County's mental health agency, for example, has redesigned its bipolar disorder clinic to be more patient-centric. After checking in at the front desk, patients forego the traditional waiting room and are instead escorted to a private, almost apartment-like room equipped with chairs, a couch, and television. Staff come to them instead of patients being shuffled around to different exam rooms. The Austin-Travis County Integral Care clinic has partnered with Dell Medical School on the redesign experiment, which the two groups hope will ultimately lead to more mental health services being provided outside of hospitals.
In her letter to Santa, American Council of Science and Health Director of Medicine Jamie Wells, MD laments the lack of truth in medical advertising, pointing to Theranos, the over-utilization (and sometimes disingenuous) use of the word "provider," the hype around value-based care, the debacle of EHRs, and the "fix" of interoperability: "Now, interoperability is the latest buzzword," she explains. "Don't get it twisted, this is not new, nor is it some breakthrough. It is an attempted fix to the nightmare of EMRs without being honest enough to acknowledge that EMRs were supposed to possess it in the first place. While we are at it, proclaim in their current form that they are little more than glorified billing platforms."
---
Sponsor Updates
Blog Posts
Contacts