Top News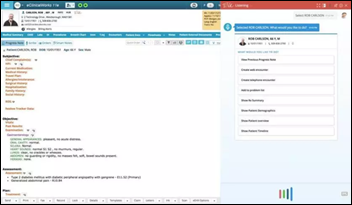 The Boston Globe highlights the progress EHR vendors like EClinicalWorks are making with embedded virtual assistant technology akin to Alexa and Siri.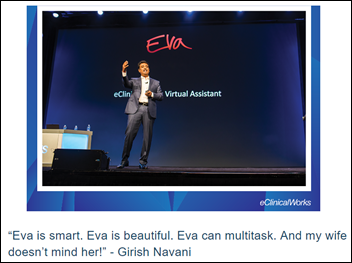 EClinicalWorks CEO Girish Navani previewed the technology during the company's user conference last fall, and rolled it out to customers in December. Epic is reportedly preparing to launch its own virtual assistant before HIMSS. Athenahealth also has one in the works.
---
Webinars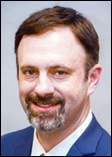 January 24 (Wednesday) 1:00 ET: "Location, Location, Location: How to Deploy RTLS Asset Management for Capital Savings." Sponsor: Versus Technology. Presenter: Doug Duvall, solution architect, Versus Technology. Misplaced or sub-optimally deployed medical equipment delays patient care and hampers safety-mandated preventive maintenance. It also forces hospitals to buy more equipment despite an average utilization that may be as low as 30 percent, misdirecting precious capital dollars that could be better spent on more strategic projects. A real-time locating system (RTLS) cannot only track asset location, but also help ensure that equipment is properly distributed to the right place at the right time. This webinar will provide insight into the evaluation, selection, and benefits of an RTLS-powered asset management solution.
Previous webinars are on our YouTube channel. Contact Lorre for information.
---
Announcements and Implementations

PerfectServe will integrate its clinical communication and care team collaboration platform with Microsoft Skype for Business to allow clinicians to conduct video conversations from within the PerfectServe application.
Allscripts adds clinical, financial, and informational point-of-care messaging from OptimizeRx to its EPrescribe, Professional EHR, and TouchWorks EHR software.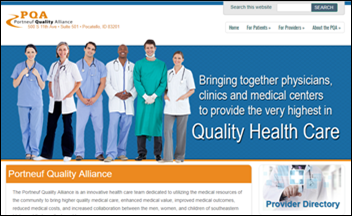 Portneuf Quality Alliance (ID) selects population health management technology from Lightbeam Health Solutions.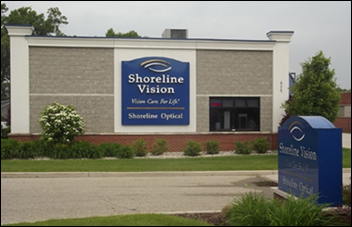 Shoreline Vision (MI) signs on for support services from Great Lakes Management Services Organization.
---
People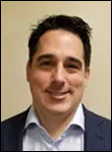 William Milo (Surgery Partners) joins Physician Partners of America as SVP of practice operations.
---
Government and Politics
As of January 1, prescribers in Nebraska must report all dispensed prescription drugs to the statewide PDMP. Providers will also now receive alerts when patients receive high dosages of opioids within the last seven to 30 days. The PDMP is powered by e-prescribing and medication management technology from DrFirst, and is one of the only such databases to integrate with the state HIE.
---
Telemedicine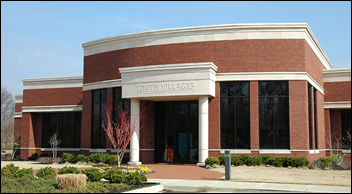 Youth Villages (TN) adds telemedicine services to its deployment of Mozzaz digital health tools.
WeCounsel develops the VisuWell brand to offer specialists turnkey telemedicine services. VisuWell CEO Sam Johnson founded patient messaging company Relatient in 2012 after a long sales stint with Greenway Health.
Netsmart will embed the virtual doctor service of American Well in long-term care and behavioral health EHR,  giving patients improved access to professionals and allowing them to obtain services from home.
Teladoc integrates its traditional telemedicine services with text-based second opinions from Best Doctors, which it acquired last summer, in a new app.
---
Research and Innovation
Organizers of the Healthy Nevada Project will offer an additional 40,000 residents Helix DNA kits when phase two of the population health study opens in the spring. Genetic data from study participants will be added to the health, population, and environmental data already being collected to develop a data set that will inform future public health projects.
---
Other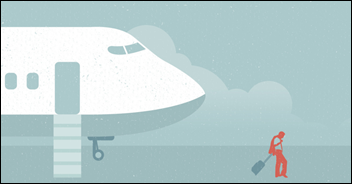 Road warriors, beware: A Columbia University study finds that people who travel for work two weeks or more out of the month are more anxious and depressed than those who travel less. They are also more likely to smoke, exercise less, and have trouble sleeping.
---
Sponsor Updates
Culbert Healthcare Solutions will exhibit at the HFMA Revenue Cycle Conference January 18-19 in Foxborough, MA.
KLAS recognizes Aprima as a top-tier vendor of ambulatory RCM services for the large and small clinic categories.
Blog Posts
---
Contacts
More news: HIStalk.
Get HIStalk Practice updates.
Contact us online.
Become a sponsor.