Top News

Physicians in Fredericksburg, VA express their frustration with the ransomware attack that took down Allscripts systems late last week. Moss Free Clinic Medical Director Patrick Neustatter, MD believes the situation is bigger than Allscripts is letting on, given that the colleagues he has spoken with are in "frantic meltdown mode." The clinic didn't have to cancel appointments, but did have to revert to paper – a move that had scribes up in arms over illegible physician handwriting.
Allscripts has kept customers apprised of recovery efforts via daily conference calls, and expects to bring customers back up on a rolling basis, presumably over the next several days. Operations were back to normal at the clinic as of this morning, with the exception of e-prescribing.
---
Webinars
January 24 (Wednesday) 1:00 ET: "Location, Location, Location: How to Deploy RTLS Asset Management for Capital Savings." Sponsor: Versus Technology. Presenter: Doug Duvall, solution architect, Versus Technology. Misplaced or sub-optimally deployed medical equipment delays patient care and hampers safety-mandated preventive maintenance. It also forces hospitals to buy more equipment despite an average utilization that may be as low as 30 percent, misdirecting precious capital dollars that could be better spent on more strategic projects. A real-time locating system (RTLS) cannot only track asset location, but also help ensure that equipment is properly distributed to the right place at the right time. This webinar will provide insight into the evaluation, selection, and benefits of an RTLS-powered asset management solution.
February 13 (Tuesday) 1:00 ET. "Beyond Sliding Scale: Closing the Gap Between Current and Optimal Glycemic Management Practices." Sponsor: Monarch Medical Technologies. Presenter: Laurel Fuqua, BSN, MSN, EVP/chief clinical officer, Monarch Medical Technologies. The glycemic management practices of many hospitals and physician staff differ from what is overwhelmingly recommended by experts and relevant specialty societies. As a result, they are missing an opportunity to improve the quality, safety, and cost of care for their patients with diabetes and hyperglycemia, which commonly represent more than 25 percent of their inpatient population. Hospitals that transition from sliding-scale insulin regimens to consistent use of basal / bolus / correction protocols are seeing reductions in hyperglycemia, hypoglycemia, and costs. Making this shift more effective and efficient is the use of computerized insulin-dosing algorithms that can support dedicated staff using a systematic approach.
February 14 (Wednesday) 2:00 ET. "Time is Money: Aurora Health's Journey of Implementing and Advancing Cost Accounting." Sponsored by Strata Decision Technology. Aurora Health Care's implementation of Strata's Decision Support module involved not only building an improved cost accounting model, but improving the process to engage a cross-functional team in cost development. It now has accurate, consistent cost data to support decision-making. Aurora's next phase will be to use actual procedure and visit times to allocate costs. This presentation will provide a detailed view into both the implementation and future direction of the Strata Decision Support program within Aurora.
Previous webinars are on our YouTube channel. Contact Lorre for information.
---
Announcements and Implementations

Nuance announces GA of Dragon Medical Practice Edition 4, featuring Windows 10 touchscreen compatibility, and enhanced usability and voice capabilities.
---
People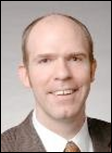 Oak Street Health hires David Buchanan MD, (Erie Family Health Center) as Executive Medical Director for Illinois.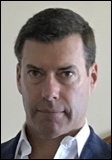 Greg Novak (Presidio) joins CareCloud as VP of channel sales.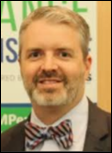 EHR vendor Welligent names Matt Chamberlain (Open Minds) COO.
---
Telemedicine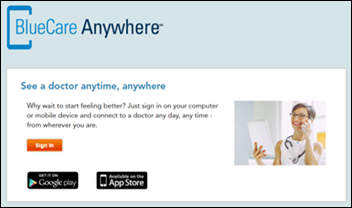 Blue Cross Blue Shield of Arizona taps American Well to power its new BlueCare Anywhere virtual consult service.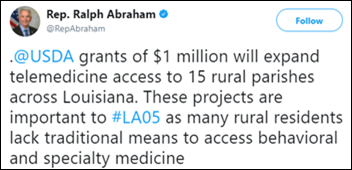 The USDA awards $23.6 million via its Distance Learning and Telemedicine Grant Program to rural communities in need of broadband equipment. The funding will assist virtual projects related to job training, education, and healthcare in 28 states. Telemedicine projects in several states will focus on offering patients greater access to mental healthcare and opioid abuse treatment.
A new MGMA poll of just under 1,300 respondents finds that 15 percent are planning to implement telemedicine this year, 20 percent are unsure, and 39 percent have no plans to. Survey results saw a 3 percent year-over-year decrease in physicians that plan to add virtual visit services.
---
Research and Innovation

Using data from 2014, a RAND study on the EHR utilization of 39,000 hospital-affiliated physician practices finds that nearly 40 percent are under-utilizing the technology, and close to 25 percent are leveraging them to their full potential. Practices struggling with utilization tend to be in rural areas out West with fewer physicians than their metropolitan super-user counterparts.
---
Other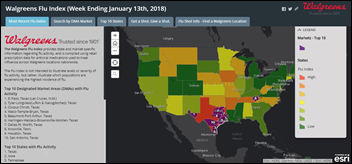 TechRepublic highlights the way Walgreens uses prescription data to power its online flu-tracking map. "This is an innovative way where customers can benefit from geospatial analysis," says David Attaway, MD of Esri, which hosts the Flu Index. "We can use predictive analytics to determine the next area that might be hardest hit."
---
Contacts
More news: HIStalk.
Get HIStalk Practice updates.
Contact us online.
Become a sponsor.