Top News
The local news looks at the success South Miami Children's Clinic (FL) is having with the text-based Medici app. Medical Director Tina Carroll-Scott, MD believes that offering the app to her patients is the "natural next step for medicine." Carroll-Scott, who conducts between 35 and 40 virtual consults during the week, says they have helped reduce ER visits and improved her relationship with patients.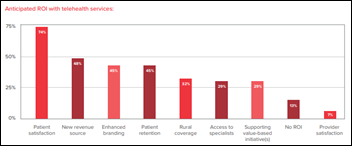 While the news coverage doesn't dive into how the clinic is reimbursed for these visits, its adoption does reflect the widespread interest of physicians in virtual healthcare services, as highlighted in an MGMA poll earlier this year that found 40 percent of medical groups are currently or are planning to offer telemedicine services. A follow-up analysis finds that lack of reimbursement is the top barrier to broader adoption. Those that have integrated telemedicine into their practice routines have done so with expected ROI around increased patient satisfaction, new revenue sources, and enhanced branding.
---
Webinars


April 5 (Thursday) 1:00 ET. "Succeeding in Value-Based Care Via a Technology-Driven Approach." Sponsor: Health Fidelity. Presenters: Adele L. Towers, MD, MPH, senior clinical advisor, UPMC Technology Development Center; Adam Gronsky, director of advisory services, Health Fidelity. Success in value-based care requires a thorough understanding of how risk-based payment models work. To prosper in this data-laden era of care, providers need to manage their patient populations holistically rather than through a collection of individual episodes and be able to accurately identify, document, and report risk scores. Given the stakes, is your provider organization adequately set up to take on and succeed in managing risk? In this webinar, learn how technology-enabled risk capture optimization is helping providers succeed in risk-based payment models.
Previous webinars are on our YouTube channel. Contact Lorre for information.
---
Announcements and Implementations
ReportingMD adds workflow-friendly EHR data retrieval capabilities from Holon Solutions to its Total Outcomes Management analytics tool.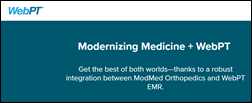 WebPT and Modernizing Medicine develop an interface between their respective EHRs to enable better data sharing between physical therapists and orthopedists.
MedConnect integrates Clinigence's quality reporting software with its EHR, PM, and billing platform for physician practices.
Cleveland-based Chronic Care Management launches new behavioral health integration-focused software and services, including outcome assessment tools, care gap identification, and community resource-need matching.
---
People
Chicago-based physician practice RCM vendor HealthiPass hires Imran Ahmad (OCA Ventures) as COO and Ryan Navratil (Outcome Health) as director of product.
---
Telemedicine

Cohen Veterans Network will open new mental health clinics for post-9/11 veterans in Orlando and San Diego this fall. Services will be available to patients across Florida and California via the network's CVN Telehealth Services.

DoseDr expands its telemedicine services to include care for chronic diseases like hypertension, coronary artery disease, chronic kidney disease, and stroke. The Baton Rouge, LA-based company will add congestive heart failure and COPD services next month.
---
Sponsor Updates
Blog Posts
---
Contacts
More news: HIStalk.
Get HIStalk Practice updates.
Contact us online.
Become a sponsor.