Top News
CMS Deputy CIO Janet Vogel will transition into the role of HHS CISO in April following the departure of Chris Wlaschin who is stepping down for unspecified personal reasons. Wlaschin's resignation puts the Healthcare Cybersecurity and Communications Integration Center on even more tenuous ground given the departure of its director and removal of its deputy CISO last year.
The center, which launched last June, was originally touted by Wlaschin as a resource that would "analyze [cybersecurity threats] and deliver best practices and the two or three things that a small provider, a small office, a doc in a box can do to protect his patient's privacy and information security around those systems." It has been mired in problems ever since, largely due to personnel issues and policy disagreements, some of which centered on the center's almost carbon-copy resemblance to the Dept. of Homeland Security National Cybersecurity and Communications Integration Center.
---
Webinars


April 5 (Thursday) 1:00 ET. "Succeeding in Value-Based Care Via a Technology-Driven Approach." Sponsor: Health Fidelity. Presenters: Adele L. Towers, MD, MPH, senior clinical advisor, UPMC Technology Development Center; Adam Gronsky, director of advisory services, Health Fidelity. Success in value-based care requires a thorough understanding of how risk-based payment models work. To prosper in this data-laden era of care, providers need to manage their patient populations holistically rather than through a collection of individual episodes and be able to accurately identify, document, and report risk scores. Given the stakes, is your provider organization adequately set up to take on and succeed in managing risk? In this webinar, learn how technology-enabled risk capture optimization is helping providers succeed in risk-based payment models.
Previous webinars are on our YouTube channel. Contact Lorre for information.
---
Announcements and Implementations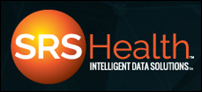 SRS Health adds PDMP-checking capabilities to e-prescribing workflows within its specialty-focused EHRs.

OpenEMR announces support for Web-based medical image visualization within patient records.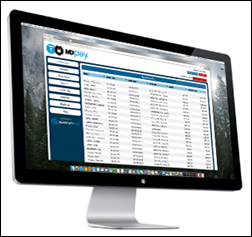 Relatient launches its MDpay digital patient billing solution after a four-month pilot that saw participating practices collect $900,000 in payments – 14 percent of which were made on a mobile device. CEO Michelle Perry joined the company last November after stints at GetWellNetwork and ThreatConnect.
---
Acquisitions, Funding, Business, and Stock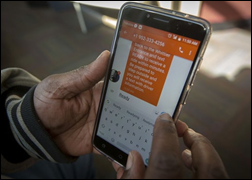 The local paper looks at the growing trend in healthcare appointment ride-sharing, zeroing in on Minneapolis startup Hitch Health. Its customer base includes local clinics and providers affiliated with Hennepin County Medical Center, which helped propel Hitch Health out of its affiliated Upstream Health Innovations center. Local taxi companies are upset the company has chosen to partner with Lyft for its rides; a decision made, according to co-founder Chip Truwit, MD based on data that shows Medicaid patients have a hard time booking approved taxi rides, resulting in no-shows.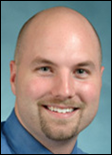 Dallas-based practice management company US Dermatology Partners expands to Oklahoma through the acquisitions of Stillwater Dermatology Clinic and Metcalf Dermatology. Stillwater physician Thomas Hall, MD will take on the role of USDP's regional medical director for Oklahoma.
---
Government and Politics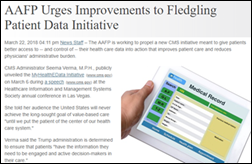 The AAFP weighs in on the recently announced MyHealthEData Initiative, telling CMS Administrator Seema Verma in a letter that it objects to "placing responsibility for the adoption of interoperable systems on physician practices. The creation of standardized interoperable systems should instead be the responsibility of vendors. We strongly urge CMS to require EHR vendors to provide any new government-required updates to such systems without additional cost to the medical practice."
---
Other

Early April Fool's? Foreo, "the world's biggest beauty tech brand," develops an emotionally intelligent toothbrush dubbed IssaAlexa that will keep users on top of both their oral health and social activities. For example, the $300 brush can detect when you've decided to forego brushing after a night on the town and helpfully "shout from the bathroom, 'Alcohol enhances bad breath so I've cancelled your drinks with friends tomorrow.'" Foreo does indeed exist and manufacture Issa toothbrushes, though the Alexa version doesn't seem to have hit its website yet. H/T to Politico for alerting me to 2018's must-have beauty product.
---
Contacts
More news: HIStalk.
Get HIStalk Practice updates.
Contact us online.
Become a sponsor.