Top News
Cardiologist Lynne Perry-Bottinger, MD files a $1 million John Doe lawsuit in federal court over an anonymous Healthgrades review that she believes was left by a competitor. The suit accuses the reviewer of "false advertising, libel, unfair competition, and tortious interference." Perry-Bottinger believes the negative review (click the image above to read) – one of a total of five for her on Healthgrades – has led several patients to cancel appointments. Healthgrades has refused to unveil the identity of the reviewer without a subpoena.
---
Webinars
June 21 (Thursday) noon ET. "Operationalizing Data Science Models in Healthcare." Sponsor: CitiusTech. Presenters: Yugal Sharma, PhD, VP of data science, CitiusTech; Vinil Menon, VP of enterprise applications proficiency, CitiusTech. As healthcare organizations are becoming more adept at developing models, building the skills required to manage, validate, and deploy these models efficiently remains a challenging task. We define operationalization as the process of managing, validating, and deploying models within an organization. Several industry best practices, along with frameworks and technology solutions, exist to address this challenge. An understanding of this space and current state of the art is crucial to ensure efficient use and consumption of these models for relevant stakeholders in the organization. This webinar will give an introduction and overview of these key areas, along with examples and case studies to demonstrate the value of various best practices in the healthcare industry.
Previous webinars are on our YouTube channel. Contact Lorre for information.
---
Announcements and Implementations
Athenahealth will offer Epocrates end users drug therapy advice from Therapeutic Research Center via Prescriber's Letters updates.

DrChrono adds payment processing capabilities from Square to its EHR and OnPatient portal.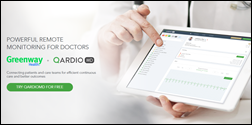 Greenway Health integrates QardioMD's remote monitoring devices and software with its EHR and practice management system.
NoteSwift develops an API toolkit for vendors interested in adding the company's Samantha virtual documentation assistant software to their EHRs.
---
Acquisitions, Funding, Business, and Stock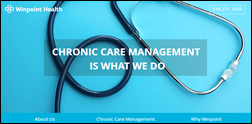 IGambit, parent company of data analytics management and remote monitoring business Healthdatix, will acquire chronic care management services company Winpoint Health for an undisclosed amount.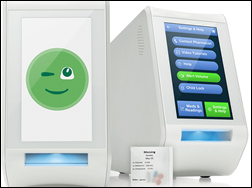 Medication management startup MedX Services opens for business in Chattanooga, TN. The company has developed an at-home medication dispensing and care communication system that will keep physicians, pharmacists, and caregivers in the loop when a patient misses a daily dose.

I missed this last month: Boston-based IT services and support company Versatile launches a healthcare managed services division for ambulatory organizations.
---
Government and Politics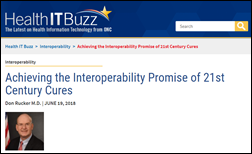 National Coordinator Don Rucker, MD offers an update on how the ONC is making good on the interoperability promises of the 21st Century Cures Act. High-level items of note include encouraging the development of APIs to make health data more shareable, sharing best practices to help stakeholders avoid information blocking, moving forward with TEFCA (Trusted Exchange Framework and Common Agreement), and continuing to find ways to reduce the administrative burdens on physicians.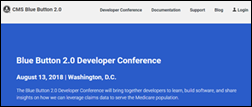 To advance its MyHealthEData patient data-sharing initiative, CMS will host a Blue Button 2.0 Developers Conference August 13 in Washington, DC.
---
Telemedicine

This article profiles, Docity, a telemed startup founded by Marine Corps veteran James Cowan that is working to bring virtual consults to consumers through bundled offerings from their Internet service providers. It's an interesting concept – one that the company pivoted to after attempting to stand up a direct-to-consumer telemedicine service.
---
Other
Latham, NY-based Med Associates notifies its billing customers of a March data breach that may have exposed the medical records of 270,000 patients. The company attributes the breach to unauthorized access of a workstation.
---
Sponsor Updates
Blog Posts
---
Contacts
More news: HIStalk.
Get HIStalk Practice updates.
Contact us online.
Become a sponsor.