Top News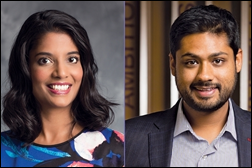 After cutting its staff headcount by half and bringing on a new CEO, Outcome Health announces that founders Rishi Shah and Shradha Agarwal have stepped down from the Board of Directors in an effort to "provide clear leadership transition for the new management team." Board member and Portage Point Partners managing partner Matthew Ray has taken over as chairman. The medical waiting room advertising company was valued at $5 billion last year, making Shah and Agarwal one-time paper billionaires.
---
Webinars
None scheduled soon. Previous webinars are on our YouTube channel. Contact Lorre for information.
Here is the recording of last week's webinar titled, "Healthcare Organizations: Operationalizing Data Science Models."
---
Announcements and Implementations
Clinical dispensing software vendor MDScripts offers end users in Arizona, Indiana, Kansas, Massachusetts, Michigan, Ohio, Pennsylvania, and Virginia access to their state-based PDMP via integration with Appriss Health's PMP Gateway.
California-based HIEs SacValley MedShare and Connect Healthcare will merge.
---
Acquisitions, Funding, Business, and Stock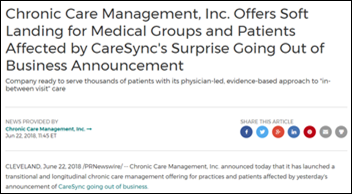 As the details behind CareSync's demise continue to surface (Dr. Jayne's latest Curbside Consult provides more inside scoop), my inbox continues to swell with emails from companies anxious to step into the chronic care management company's shoes. Chronic Care Management Inc., Revenue Maximization Group, and Sargas Pharmaceutical Adherence & Compliance International promise to "seamlessly transition medical groups and patients affected by the CareSync closure" to their respective CCM services. I saw the same phenomenon happen when Practice Fusion changed to a subscription model, and have to wonder how effective these marketing campaigns are (and how many Athenahealth competitors have already written press releases to a similar effect). Has a well-timed press release prompted your practice to switch health IT vendors after your main vendor made a significant change to its business model? Please share your experience in the comments below.
The Aledade team celebrates its fourth anniversary with statistics and figures that point to a successful ACO venture thus far. The juxtaposition of its celebratory PR with the news of CareSync's passing is an interesting one – one that makes me wonder how much leadership style and investor panache played a part in each company's evolution.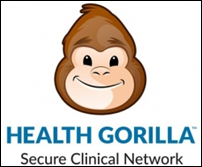 App-based medical record aggregator and services startup Health Gorilla raises $8.2 million in a Series A round.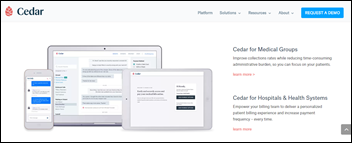 New York City-based patient billing and provider CRM vendor Cedar raises $36 million in a Series B funding round led by investment firm Kinnevik. The company has raised $49 million since formally launching late last year. Co-founder and CEO Florian Otto, MD helped launch Groupon Brasil and spent several years at ZocDoc before opening Cedar with AppNexus veteran Arel Lidow.
Healthcare cloud services company NetGain Technology acquires IManaged Solutions for an undisclosed sum. IManaged Solutions offers similar services to optometry practices and EHR vendors. Founder Craig Rodrigue will join NetGain as GM of the IManaged business.
---
Other
Australian Health Minister Greg Hunt orders a review of appointment scheduling and physician review website HealthEngine after reporters claim it has been sharing health data with third parties without user consent – an allegation the company denies. HealthEngine sent daily lists of its users to law firms looking for clients with personal injury claims as part of a referral partnership – a scheme that may indeed have been legitimate based on details deeply embedded within the company's privacy policy. HealthEngine was in hot water last week for editing out negative physician reviews.
---
Sponsor Updates
Medicity will present at the Internet of Health event June 26-27 in Boston.
Blog Posts
---
Contacts
More news: HIStalk.
Get HIStalk Practice updates.
Contact us online.
Become a sponsor.