Top News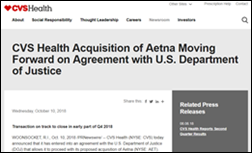 CVS Health receives DoJ clearance to proceed with its $69 billion acquisition of Aetna, which will operate as a standalone business once the deal closes at the end of Q4. The arrangement is contingent on Aetna selling off its Medicare Part D business.
CVS Health President and CEO Larry Merlo says the companies will have the combined capabilities in "technology, data, and analytics to develop new ways to engage patients in their total health and wellness. Our focus will be at the local and community level, taking advantage of our thousands of locations and touch points throughout the country to intervene with consumers to help predict and prevent potential health problems before they occur."


Aetna CEO Mark Bertolini told Fortune earlier this year that, "The insurance company isn't going to be about making money anymore. It's [going to be] about facilitating the financing of affordable and convenient care," pointing out that CVS has 10,000 stores within five miles of 80 percent of US consumers. Bertolini will resign once the deal is done and then join CVS Health's Board of Directors. Aetna President Karen Lynch will take over his executive role and become a CVS EVP.
---
Webinars
October 30 (Tuesday) 2:00 ET. "How One Pediatric CIN Aligned Culture, Technology and the Community to Transform Care." Presenters: Lisa Henderson, executive director, Dayton Children's Health Partners; Shehzad Saeed, MD, associate chief medical officer, Dayton Children's Health Partners; Mason Beard, solutions strategy leader, Philips PHM; Gabe Orthous, value-based care consultant, Himformatics. Sponsor: Philips PHM. Dayton Children's Health Partners, a pediatric clinically integrated network, will describe how it aligned its internal culture, technology partners, and the community around its goal of streamlining care delivery and improving outcomes. Presenters will describe how it recruited network members, negotiated value-based contracts, and implemented a data-driven care management process.
Previous webinars are on our YouTube channel. Contact Lorre for information.
---
Announcements and Implementations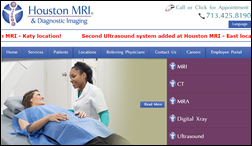 Houston MRI & Diagnostic Imaging selects ERAD's RIS and PACS software including patient and physician portals.
---
Acquisitions, Funding, Business, and Stock

AMA's business development and commercialization company Health2047 launches its second venture, First Mile Care, which aims to support pre-diabetic patients through health coaching and related resources. FMC founder and CEO Karl Ronn comes to the company from P&G.
---
Telemedicine
CVS Health's MinuteClinic rolls out Teladoc-powered Video Visits in Kentucky. Now offered in 16 states, the retail clinic's telemedicine service will be made available nationwide by the end of the year.
---
Other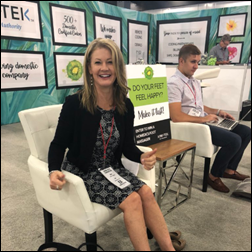 Beth Friedman of Agency Ten22 was kind enough to send over her physician practice-related insights from AHIMA, which took place late last month in Miami Beach:
Protecting patient information across all settings of care and business operations was consistently emphasized as fundamental to ensuring patient trust. Attendees were encouraged to align privacy, security, and data management best practices. Lessons learned from organizations experiencing cyberattacks drove home the need to:
Maintain backups of PHI.
Secure systems and protect data.
Never underestimate the malicious nature of cybersecurity attacks.
Assess your business associates or outsource this task to a third party.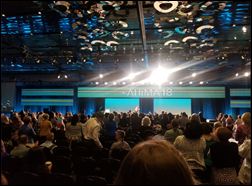 In sessions covering security certifications and frameworks like NIST, HITRUST and GDPR, HIM professionals — in conjunction with their IT counterparts — can play an important role in helping practices promote stronger privacy, security, and data governance. Their expertise should not be underestimated or ignored. Project management and denial management are two additional technology areas where HIM experts can lend a helping hand.
Providers were encouraged to use IT systems as a first line of defense against payer denials. Intersect Healthcare CEO Brian McGraw suggested the following strategies in his session:
Track your practice's top encounters and diagnoses denied.
Educate staff on clinical documentation and coding guidelines for common denials.
Upload knowledge into your IT systems for easy access and denial disputes.
Know payer rules, include them in your IT systems, and build awareness across all staff.
Move toward payer collaboration and conduct clinical conversations about denials.
According to McGraw, "Providers should adopt a proactive approach to pursue every avenue under their contract." Another practical tactic for physician practices to consider is the use of HIM professionals for IT and centralization projects.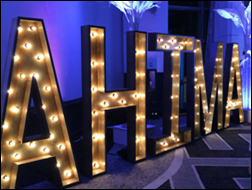 Coding focus is shifting to a long-term, holistic view of the patient versus individual office or hospital encounters. Chronic care management programs are part of that shift. For physician practices setting up a CCM program, the first few steps are most important. TrustHCS Director of Coding Quality and Professional Development Nena Scott provided four takeaways for CCM success:
Take your time during initial program setup to achieve better patient outcomes
Focus on managing chronic conditions so they don't reoccur
Work to avoid hospital readmissions—acute exacerbations of chronic disease
Strengthen communication and patient management between hospital, physician and post-acute care providers—nurses, physician assistants, care managers, etc.
---
Sponsor Updates
AdvancedMD will exhibit at the American Society of Dermatologic Surgeons Annual Meeting October 11-14 in Phoenix, AZ.
Aprima will exhibit at the AAFP Annual Meeting October 10-12 in New Orleans.
---
Contacts
More news: HIStalk.
Get HIStalk Practice updates.
Contact us online.
Become a sponsor.