Top News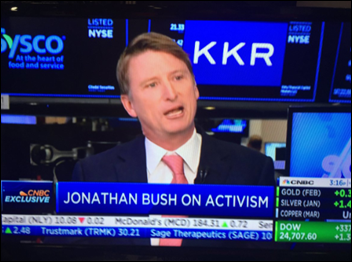 Jonathan Bush appears on CNBC six months after stepping down as CEO of Athenahealth, calling his appearance (in typical Bush fashion) a "little bit like being invited to my ex-girlfriend's family for Thanksgiving." When asked to advise other CEOs on what to do when faced with an activist investor, Bush said the actions of firms like Elliott Management will likely make companies rethink their plans to go public. "My experience is that running a company with a gun to your head is no way to run a company," he added. "Better to just say pull the trigger."
Of Elliott Management's rifling through his social media accounts to portray his actions as irresponsible, Bush pointed out that, "If you're cynical and you can use the media well, you can take humanity and twist it into a dark thing."
When asked if his personality may have been part of the company's problems, he admitted, "We needed a little bit of reindeer games to get attention, to get on your show, to get doctors into our 10×10 booth at … HIMSS, to attract entrepreneurs. We made it sexy and fun to enter this space."
On his next move, which may or may not include a run for public office: "I would like to make sure that whatever I do with the rest of my life is optimistic and has the notion of a unifying opportunity for everyone in it. Don't we all?"
---
Webinars
None scheduled soon. Previous webinars are on our YouTube channel. Contact Lorre for information.
---
Announcements and Implementations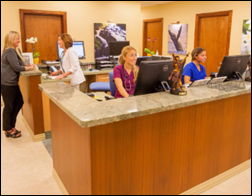 In Hawaii, Doctors on Call Maui rolls out CareCloud's EHR, practice management, and RCM software at its two locations.
---
Acquisitions, Funding, Business, and Stock
Kindbody expands in California with two pop-up clinics in Los Angeles. The women's healthcare company, which also offers virtual consults, has offered similar services in Palo Alto, San Francisco, and New York. It plans to add brick-and-mortar facilities on both coasts in 2019.
---
Other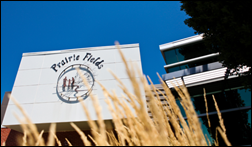 In Nebraska, Prairie Fields Family Medicine notifies over 6,000 patients of an early October data breach that occurred when an unencrypted spreadsheet containing patient details was sent to the wrong email address.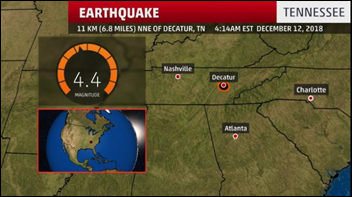 It's not often earthquakes shake up my part of the world, and so I didn't know what to make of the rumblings that shook my house early this morning. I awoke to reports of a 4.4-magnitude quake in Eastern Tennessee, and was relieved to learn there were no injuries or damage as a result. I did wonder if the earthquake had triggered the fall-detection feature on anyone's Apple Watch ….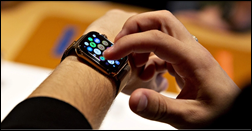 And speaking of Apple Watch features … This California Healthline article points out that the Watch's health app, including fall detection, ECG readings, and irregular heart rhythm alerts, make it the perfect holiday gift for seniors. One Apple analyst thinks the marketing makes sense: "People who wore watches their whole lives, plus fall monitoring? Voilà! It creates another on-ramp for another consumer in the Apple ecosystem." Another analyst is even more succinct, calling the health-monitoring apps a "play to sell more stuff to people." As is the case with many articles of this ilk, the "worried well" are trotted out as a potentially unintended consequence of the Watch's popularity among already fairly healthy users. Talking healthcare head Eric Topol, MD offers the cautionary provider's perspective: "It's mass use of a tool, and with that is going to come lots of unintended consequences. It'll lead to a lot of anxiety and expense and additional testing, and even then some people will get blood thinners inappropriately. This is the opposite of individualized medicine, where you are using something on exactly, precisely the right person."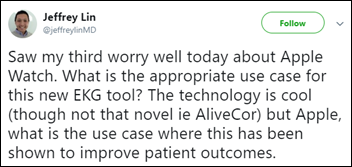 Providers like sports cardiologist Jeffrey Lin, MD are already seeing patients walk in with questions related to their Apple Watch readings. Another cardiologist calls it a "daily occurrence," while a venture capitalist points out that it's really all about happy customers reassuring themselves that they're fine.
---
Contacts
More news: HIStalk.
Get HIStalk Practice updates.
Contact us online.
Become a sponsor.