Top News
DocuTap founder and former CEO Eric McDonald tells the local news in Sioux Falls, SD that the company's merger with Practice Velocity and subsequent name change to Experity is bittersweet for him, personally, but a boon for employees and the 4,000 urgent care centers the new company will now serve. "We've had our best financial quarters two quarters back to back," he says. "Our employee retention rates, our client retention rates in sales numbers have all been the best the company has ever seen. So I'm leaving on a high" McDonald will become an Experity board member, while Practice Velocity CEO David Stern will lead Experity.
---
Webinars
May 21 (Tuesday) 2:00 ET. "Cloud-Based Data Management: Solving Healthcare's Provider Data Challenge." Sponsor: Information Builders. Presenters: Jeremy Kahle, manager of planning and business development, St. Luke's University Health Network; Shawn Sutherland, patient and member outcomes, Information Builders; Bill Kotraba, VP of healthcare solutions and strategies, Information Builders. Inaccurate provider data negatively impacts revenue cycle, care coordination, customer experience, and keeping information synchronized across systems and functions. SLUHN will describe how it created a single version of provider data from 17 sources, followed by a demonstration of how that data can be used in reports and geospatial analysis. Learn how Omni-HealthData Provider Master Edition provides rapid ROI in overcoming healthcare organization provider data issues.
May 30 (Thursday) 2:00 ET. "ONC Data Blocking Proposed Rule: What Health Systems Need to Know." Sponsor: Philips PHM. Presenter: Greg Fulton, industry and public policy lead, Philips. Proposed data-blocking regulations could specify fines, disincentives, and de-certification of providers who don't provide an API for patients to extract all of their data. This webinar will describe who is deploying APIs, the scope of data and third-party apps that can be used, the seven costs that do not count as a data-blocking exception, and the health system protections that don't involve using a vendor. It will also provide examples of data blocking and further exceptions.
Previous webinars are on our YouTube channel. Contact Lorre for information.
---
People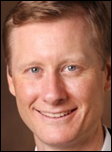 Zack Klint (EviCore) joins I2I Population Health as VP of client success.
---
Announcements and Implementations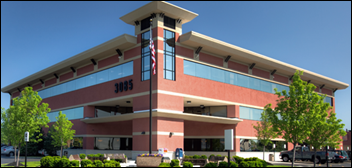 Great Lakes Medical Imaging will implement NextGate's enterprise master patient index software across its five locations in Western New York.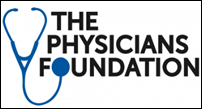 With help from six state-based medical societies, The Physician's Foundation establishes a $500,000 interoperability fund to help practices connect to their local HIEs.
---
Government and Politics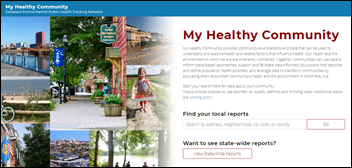 Delaware's public health division launches a community health portal that includes reports on substance abuse and chronic disease using data on drug overdoses, air quality, asthma rates, and drinking water. Officials plan to add data on maternal and child health, infectious diseases, healthy lifestyles, education, health services utilization, among others, in the coming months.
---
Telemedicine
AristaMD adds wound and ostomy specialists from virtual wound care management company Corstrata to its panel of experts available for e-consults.
---
Other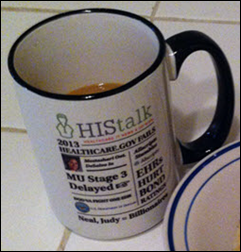 Researchers find that people who are exposed to coffee "cues" exhibit more alertness and are better able to focus on the task at hand, all without taking a sip. Seems like a coffee-scented candle or even just staring at your favorite mug might be the perfect antidote to those suffering from the 16-minute sleep deprivation I mentioned in my last post, or those who indulge in more than six caffeinated cups, the imbibing of which can lead to heart damage.
---
Sponsor Updates
AdvancedMD will exhibit at the America Psychiatric Association event May 18-22 in San Francisco.
Blog Posts
---
Contacts
More news: HIStalk.
Get HIStalk Practice updates.
Contact us online.
Become a sponsor.