Top News
Paradise Medical Group reopens in Paradise, CA with financial support from Blue Shield of California after its main clinic was destroyed during last year's disastrous Camp Fire. The fire destroyed 18,000 buildings – including most of the homes of PMG staff – and left 85 people dead.
PMG President Richard Thorp, MD says, "In the wake of the Camp Fire, we were engulfed in how to reconnect phones and medical records, answer phones and renew destroyed medical supplies and medications when we quickly realized that we had the possibility of going bankrupt as we continued to provide care for our community. In an answer to prayer, Blue Shield of California with the encouragement of the California Medical Association extended gifts of financial and operational support that pulled PMG back from the brink of collapse."
The practice, which had been operating out of temporary facilities in nearby Chico, has also leveraged Teladoc's telemedicine software to begin offering virtual consults.
---
Reader Comments
From Joe MD: "Re: Georgia Dept. of Public Health will use Appriss Health's PMP Gateway software to help prescribers connect to the state's PDMP via their EHRs … grant from the CDC. Linking individual EMRs to the maybe 50 State databases is a crazy approach where there are viable HIEs, such as in parts of Texas and in Indianapolis (among others). A far better approach would be to use the HIE as a gateway to Appriss so that when the clinician connects to the HIE, they get as much of the patient's information as possible and they don't have to integrate multiple sources.

Being financially driven, Appriss Health priced its offering to one of our HIEs in Texas in a manner to ensure that the HIE cannot afford it. From one of our local HIEs: 'Appriss wanted $50 per prescriber per year. The problem is they wanted that from us for all the prescribers in the HIE, whether we got paid or not.'

We are using CDC and other grants to create a monopoly for a private company and, possibly worse, we are creating an unsustainable infrastructure that undermines HIEs. While the intent (opioid control) is noble, it's still a monopoly and we all are poorer if more HIEs fail because they are not bypassed. My cynical side says that Appriss is thinking that once the pipes are built to each EMR they can be the HIE of the future."
---
HIStalk Practice Musings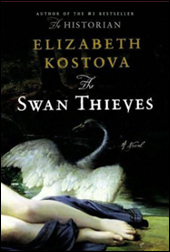 I wrapped up Elizabeth Kostova's "The Swan Thieves" over the long weekend. It was a compelling read – easy to pick up and hard to put down. The story of a psychiatrist treating a famous painter obsessed with an early French Impressionist certainly appealed to my love for art history. It's the third title I've read by Kostova, whose most famous work is "The Historian," which is another engrossing book that combines story lines with history and a touch of the unbelievable.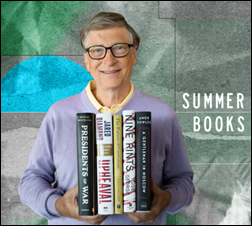 Bill Gates has more summer reading suggestions, including "Nine Pints" by Rose George. He describes it as "filled with super-interesting facts that will leave you with a new appreciation for blood."
I'm always looking for reading recommendations to pass along. Email me with your suggestions.
---
Webinars
None scheduled in the coming weeks. Previous webinars are on our YouTube channel. Contact Lorre for information.
---
Acquisitions, Funding, Business, and Stock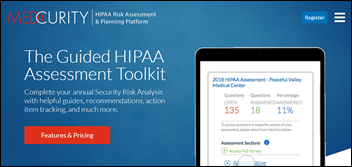 Spokane, WA-based startup Medcurity raises $700,000 to brings its TurboTax-like software for HIPAA compliance to market. The company, which launched last December, is initially targeting smaller clinics and practices, and business associates – entities that typically don't have their own compliance departments.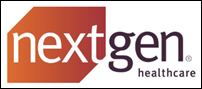 NextGen Healthcare CEO Rusty Frantz says the company's Q4 results exceeded revenue expectations thanks to growth in bookings and deal size, and the launch of integrated ambulatory care software. Frantz remains confident in the company's ability to deliver 20% operating margin in the next three years.
From the earnings call:
Revenue came in at $134 million, slightly under last year's Q4.
Frantz highlighted several KLAS recognitions including accolades for practice management, product functionality, and improved interoperability.
The company's new integrated ambulatory care software has given it a strong foothold in the replacement market.
It expects to save $3 million by migrating client hosting services to AWS.
Value-based care transitions and increased regulatory "intensity" have prompted the company to put R&D expansion plans for its Bangalore office in India in place.
The company will also invest in expanding its sales and marketing team.
---
Announcements and Implementations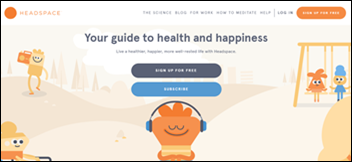 In a savvy marketing move, Headspace announces it will offer AMA members free access to its meditation and mindfulness app. The offer comes on the heels of research showing that physician burnout costs the US healthcare system nearly $5 billion a year, and that WHO now recognizes burnout as a legitimate diagnosis.
Care Compass Network in New York adopts integrated analytics and population health management software from SpectraMedix and GSI Health.
---
Government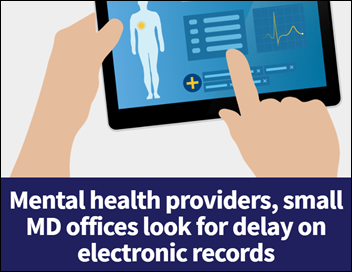 Independent practices in North Carolina face a June 1 deadline to connect to the state's HIE or risk losing the ability to submit bills to state-funded payment programs like Medicaid. Technology costs are seen as the number-one barrier to connecting to NC Health Connex, particularly for small practices and those run by physicians nearing retirement. Legislation has been introduced to extend the deadline by another three years.
---
Telemedicine

App-based therapy company Talkspace raises $50 million in a Series D round led by Revolution Growth.
---
Other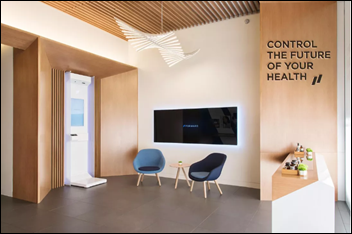 CNet reviews Forward Health's tech-heavy, membership-based primary care clinic, highlighting the minimalist décor, 3D body scanner, and Apple Health-like app that pings employees when patient readings soar to unacceptable levels. Most interesting to me, however, was the reviewer's love of the clinic's speech-to-text capabilities, which then showed up on a giant touchscreen, giving both physician and patient the luxury of eye-to-eye contact during their hour-long appointment. "I've had patients come in for appointments and cry because it's such a powerful experience for them," says Medical Lead Nate Favini, MD. "Until this point, they've probably hardly made eye contact with their doctor, and now they're seeing all of this information intuitively show up in front of them."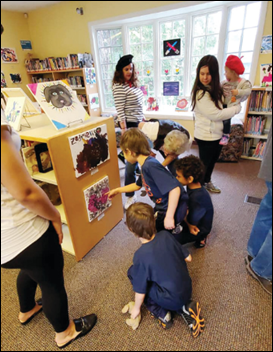 Magnolia Pediatrics (RI) hosts an art show at the local library, giving patients and their siblings the opportunity to show off their creative skills. Owner Linda DelVecchio-Gilbert, NP ended up collecting and submitting 83 pieces, which have all won rave reviews from local critics.
---
Sponsor Updates
Aprima will exhibit at the NJMGMA Practice Management Conference June 5-7 in Atlantic City.
Blog Posts
---
Contacts
More news: HIStalk.
Get HIStalk Practice updates.
Contact us online.
Become a sponsor.