Top News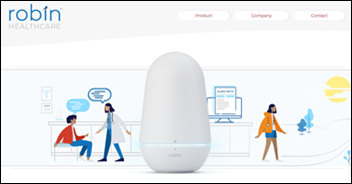 AI-powered clinical documentation company Robin Healthcare raises $11.5 million in Series A funding led by Norwest Venture Partners. The company's Robin Assistant captures clinical notes through audio and optional video during an appointment, and then transmits them directly to a practice's EHR.
The company's executive team boasts experience at One Medical, Scribes STAT, and HonestHealth.
---
HIStalk Practice Musings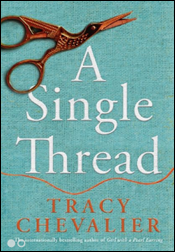 "Girl with a Pearl Earring" fans will be happy to know that Tracy Chevalier's newest book, "A Single Thread" debuts this week. I spent a few minutes on her homegrown website and love that she plans to dress in a fashion similar to that of her 1930s heroine for the book's launch in the nave of Winchester Cathedral, where the story takes place. As she enthuses at the end of her update, "Long live books!"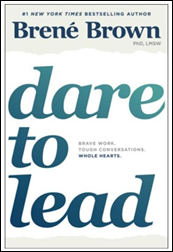 Hyland VP of Content Services Engineering David Luzier recommends "Dare to Lead" by Brené Brown in the company's latest "What our execs are reading" blog.
I'd love to highlight what you, your colleagues, or book clubs are reading. Email me with your titles and I'll be sure to share in an upcoming post.
---
Webinars
September 19 (Thursday) 2:00 ET. "ICD-10-CM 2020 Code Updates." Sponsor: Intelligent Medical Objects. Presenters: June Bronnert, MSHI, RHIA, director of terminology mapping, IMO; Theresa Rihanek, MHA, RHIA, classification and intervention mapping lead, IMO; and Julie Glasgow, MD, senior clinical terminologist, IMO. The 2020 regulatory release is right around the corner. Join IMO's top coding professionals and thought leaders as they discuss new, revised, and deleted codes; highlight revisions to ICD-10-CM index and tabular; discuss changes within Official Coding Guidelines; share potential impacts of the code set update; and review ICD-10-CM modifier changes.
September 26 (Thursday) 2 ET. "Patient Education Data: A Key Ingredient for Improving Quality and Patient Experience." Sponsor: Healthwise. Presenters: Victoria L. Maisonneuve, MSN, RN, director of the Nursing Center for Excellence and Magnet program, Parkview Health; Marta Sylvia, MPH, senior manager of quality improvement and outcomes research, Healthwise. Healthcare data is everywhere! It's scattered across various systems and in countless formats, making it difficult to collect and glean actionable information. Knowing where to start depends on what your organization wants to accomplish. By focusing on your patient education data, you can drive quality improvement across your organization. Vicki Maisonneuve will share how her team analyzes data around the use of patient education. By combining different data sets, she can easily identify trends, gaps, and opportunities to improve quality and patient experience across Parkview Health.
October 2 (Wednesday) 1 ET. "Conversational AI in Healthcare: What About ROI?" Sponsors: Orbita, Cognizant. Presenters: Kristi Ebong, SVP of strategy and GM of healthcare providers, Orbita; Matthew Smith, AVP and conversational AI practice leader, Cognizant. Conversational AI holds great promise to drive new opportunities for engaging consumers and customers across all industries. In healthcare, the stakes are high, especially as organizations explore opportunities to leverage this new digital channel to improve care while also reducing costs. The presenter experts offer a thought-provoking discussion around conversational AI's timeline in healthcare, the factors that organizations should consider when thinking about virtual assistants through chatbots or voice, and the blind spots to avoid in investing in those technologies.
Previous webinars are on our YouTube channel. Contact Lorre to present your own.
---
Acquisitions, Funding, Business, and Stock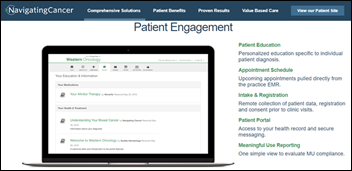 Oncology-focused patient relationship management vendor Navigating Cancer raises $26 million in a Series D round of financing led by the Merck Global Health Innovation Fund and TT Capital Partners. The Seattle-based company will use the funding to make its technology more mobile-friendly, and develop population care capabilities enhanced by AI.
---
People

Athenahealth hires Luis Borgen (Vistaprint) as CFO.
---
Announcements and Implementations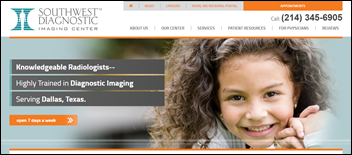 Southwest Diagnostic Imaging Center in Dallas implements Royal Solutions Group's Enterprise Care Management technology, which includes provider referral, patient intake, alerts, payment, and portal capabilities.

Nuances develops pediatric-specific versions of its clinical communication and documentation, and analytics software.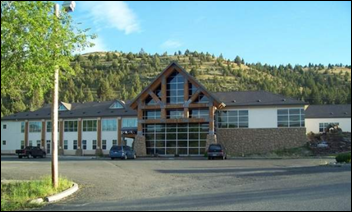 The Center Orthopedic & Neurosurgical Care (OR) implements an API that allows it to share data from its Allscripts EHR with PHR apps from MyLinks and Medlio.
---
Government and Politics
The Community HealthCare Association of the Dakotas and the Wyoming Primary Care Association will partner to create the Great Plains Health Data Network using a $1.56 million grant from HHS. Former DocuTap/Experity software engineer Kyle Mertens will head up development of the new network.
---
Telemedicine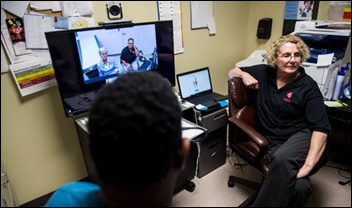 The local paper profiles the work of the Medical Advocacy and Outreach clinic in Selma, AL. MOA serves HIV-positive patients through 10 telemedicine sites in central Alabama, and plans to expand to home-based care in the coming year. Its providers were initially skeptical of the virtual visit technology, but quickly realized its benefits: "In primary care, we touch the patient," says Marguerite Barber-Owens, MD. "It was an adjustment for me. But then I saw the numbers. Selma has some of the most satisfied and [healthy] patients."
---
Other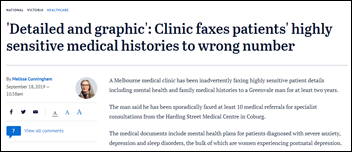 The local paper reports that a clinic in Melbourne, Australia has been faxing the extremely detailed health information of at least 10 patients to the wrong person for nearly two years. The man on the receiving end of the misdirected faxes initially hoped the problem would stop of its own accord. He finally came forward after deciding the issue may be a systemic problem that could impact patient safety. Faxing, while an archaic practice to many, seems to be the preferred method for many providers down under. The delivery method came under scrutiny last year in Victoria when a cancer patient died alone in a hotel room – a situation that may have been avoided if test results indicating he needed immediate care hadn't been faxed to the wrong number just days before.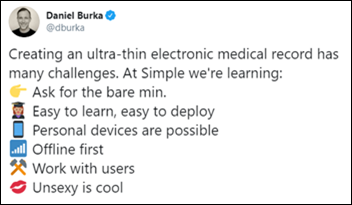 Product designer Daniel Burka recounts Simple's 17 month-long journey to building a no-fuss EHR for providers in India. The technology is focused on helping providers improve outcomes related to high blood pressure, can enable them to take blood pressure readings in 15 seconds. A favorite – and refreshing – snippet:
"AI, machine learning, and blockchain are all cool. But, it is a bit astonishing how often they come up in health tech discussions where 'boring' software will get the job done. What gets us excited is basic, well-built platforms, applied at scale to save lives."
---
Sponsor Updates
AdvancedMD will exhibit at WebPT's Ascend Conference September 19-21 in Minneapolis.
Blog Posts
---
Contacts
More news: HIStalk.
Get HIStalk Practice updates.
Contact us online.
Become a sponsor.