Top News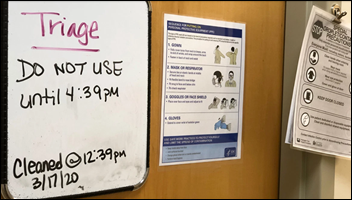 The plight of physician practices in the throes of COVID-19 continue to make headlines, with financial strains, staff shortages, and lack of PPE becoming the biggest talking points.
Physicians in Texas, worried about making payroll and paying already-reduced rent, lament the vicious cycle that has been kicked off by telling mild to moderately ill patients to stay home: Fewer in-person visits lead to lower reimbursements, while telemedicine visits fall short of comparable reimbursement rates, resulting in furloughs or layoffs that ultimately necessitate closing up shop – a decision that leaves patients with no other option but their local hospitals, which are already becoming overwhelmed.
"I'm in a small, independent practice," says Austin-based family physician Erica Swegler, MD "and I just don't hear much if any attention being paid to our peril, which is very real. It's going to happen very quickly that we just won't have the resources to keep our doors open."
Community clinics in Washington face a similar plight, despite a nationwide HRSA grant last week of $100 million for 1,400 health centers. Neighborcare Health CEO Michael Erikson says eliminating dental services in favor of focusing on virus screenings and treatment for its predominantly Medicaid population also contributes to the problem: "You take those … factors … and you have already started to lose revenue before you're gearing up for new ways of providing care. We are on a pathway to losing $3 million a month."
Larger, multi-location providers aren't immune to the same struggle. In the midst of canceling or postponing elective surgeries and shifting many of its physicians to remote care, partners and physicians at the Orthopedic Center of Palm Beach County (FL) have decided to forego their salaries in order to keep their 100 staff members employed.
---
HIStalk Practice Musings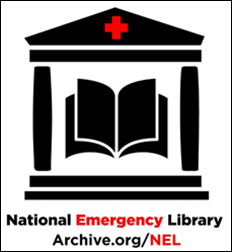 Good news for those who've had to convert to e-reading during the pandemic: The nonprofit Internet Archive has created a National Emergency Library of 1.5 million 20th Century titles available to download for free.
---
Webinars
April 15 (Wednesday) 1 ET: "Scaling front-line COVID-19 response: virtual education, screening, triage, and patient navigation." Sponsor: Orbita. Presenters: Lawrence "Rusty" Hofman, MD, medical director of digital health, Stanford Health Care; Kristi Ebong, MPH, MBA, SVP of corporate strategy, Orbita. The presenters will describe how chatbots can be quickly deployed to streamline individual navigation to the appropriate resources, administer automated virtual health checks for monitoring and managing specific populations, increase access to screening and triage for high-risk populations across multiple channels (web, voice, SMS, and analog phone), and reach individuals in multiple languages.
Previous webinars are on our YouTube channel. Contact Lorre to present your own.
---
Acquisitions, Funding, Business, and Stock

Canadian health IT and primary care company Well Health invests $6 million in Toronto-based telemedicine vendor Insig. Well Health will use Insig's technology to launch virtual care capabilities.
---
People

Adrian Rawlinson, MD (Breakaway Growth Fund) joins chronic disease-focused digital health company Welkin Health as CMO.
---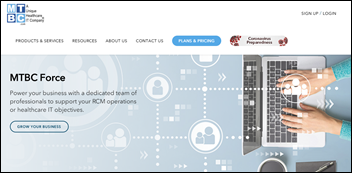 MTBC launches outsourced staffing, technology, and support services for RCM and EHR vendors.
HIEs in Idaho and Nevada offer providers free access to their networks during the pandemic.
---
Telemedicine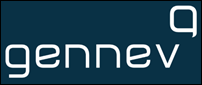 Membership-based telemedicine company Gennev expands its menopause-focused services to include primary care.

PracticeSuite adds e-consult capabilities to its EHR and RCM software.
The Georgia Rural Health Innovation Center at Mercer University School of Medicine partners with the Georgia Partnership for Telehealth to offer rural physicians free access to telemedicine services for six months.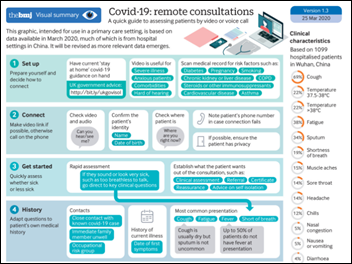 The BMJ publishes guidelines to help physicians choose between phone and video appointments, conduct COVID-19 screenings remotely, and to offer advice for arranging follow-up care.
---
Other
Texas Academy of Family Physicians CEO Tom Banning delivers 1,500 masks to 37 Austin-based practices. The masks were sourced from a manufacturing facility in Mexico that converted from producing materials for the oil and gas industries to PPE.
In another industry pivot that is becoming common during COVID-19, Maverick Whiskey flips its distillery in San Antonio to manufacturing hand sanitizer. Owner Ken Maverick, MD an ophthalmologist and medical director of the San Antonio Eye Bank, plans to donate production to the city, which will allocate it to area hospitals.
Time publishes an insider's look at working at a drive-thru testing site, highlighting the challenges providers face in anticipating demand, conveying comfort and concern while wearing PPE, and realizing that scheduling more providers for shorter shifts can prevent fatigue: "I'm an emergency room doctor, so I'm used to 12 hour shifts," says one urgent care medical director who worked a 15-hour shift during her clinic's first day of drive-thru testing. "Those N95 [face masks] definitely make you feel tired and spacey, and make breathing difficult. People can't hear you as well, so you speak louder. And after several hours of yelling through the mask for patients to hear—that's exhausting."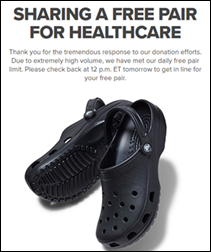 Paging Dr. Jayne: Crocs offers healthcare workers a free pair of shoes while supplies last.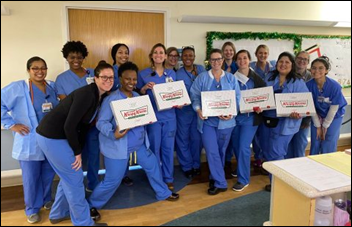 If sugary sustenance is more your thing, Krispy Kreme will give a free dozen doughnuts to healthcare workers every Monday through May 11.
---
Sponsor Updates
Blog Posts
---
Contacts
More news: HIStalk.
Get HIStalk Practice updates.
Contact us online.
Become a sponsor.