Top News

The FCC begins accepting applications for its $200 million COVID-19 Telehealth Program, which will help eligible providers purchase infrastructure, services, and devices needed to offer telemedicine during the pandemic.
---
HIStalk Practice Musings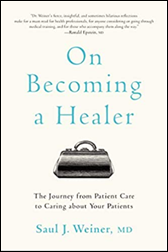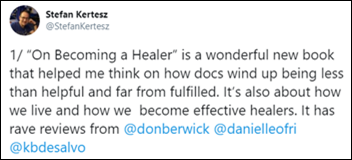 I came across this tweet and thought I would share, should anyone be looking for a new physician author to read. The book, Weiner's second, came out last week.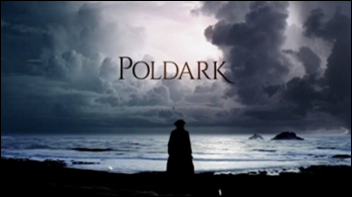 Dr. Jayne's mention last week of the British TV series "Poldark" finally get me to jump (rather belatedly) on the bandwagon. I had the opportunity to watch several episodes of the first season over the holiday weekend and I'm officially hooked. I'm looking forward to reading the series of books on which the 2015-2019 Masterpiece production was based.
---
HIStalk Practice Announcements and Requests
I'm going on record as saying 2020 will be known as the year that telemedicine went mainstream. Thus, I'm getting rid of the "Telemedicine" section and organizing virtual care-related news items according to HIStalk Practice's more traditional categories.
---
Webinars
April 15 (Wednesday) 1 ET: "Scaling front-line COVID-19 response: virtual education, screening, triage, and patient navigation." Sponsor: Orbita. Presenters: Lawrence "Rusty" Hofman, MD, medical director of digital health, Stanford Health Care; Kristi Ebong, MPH, MBA, SVP of corporate strategy, Orbita. The presenters will describe how chatbots can be quickly deployed to streamline individual navigation to the appropriate resources, administer automated virtual health checks for monitoring and managing specific populations, increase access to screening and triage for high-risk populations across multiple channels (web, voice, SMS, and analog phone), and reach individuals in multiple languages.
April 28 (Tuesday) 1 ET: "COVID-19: Managing an evolving patient population with health information systems."Sponsor: Intelligent Medical Objects. Presenters: Julie Glasgow, MD, clinical terminologist, IMO; Reeti Chauhan, senior product manager, IMO. IMO recently released new novel coronavirus descriptors to help clinicians accurately record diagnoses and also created free IMO Precision COVID-19 Sets to help identify and analyze patients with potential or documented infection. The presenters will discuss these new tools and describe how to use them optimally.
Previous webinars are on our YouTube channel. Contact Lorre to present your own.
---
Acquisitions, Funding, Business, and Stock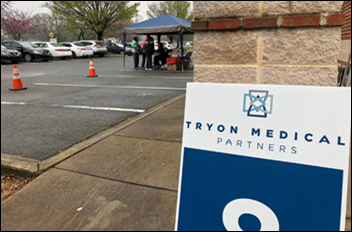 Just a little over a year after breaking away from Atrium Health-owned Mecklenburg Medical Group in North Carolina to form their own independent practice, leaders at Tryon Medical Partners lay off 75 employees in response to a pandemic-induced decline in patient visits.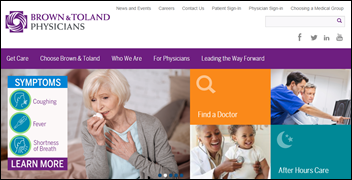 Healthcare technology and management company Altais acquires Brown & Toland Physicians, a network of 2,700 independent physicians in the San Francisco Bay area. B&TP will join the clinical services subsidiary of Altais, and implement its practice management software.
---
People



Behavioral healthcare technology company AptiHealth names Dan Pickett (Hudson River Capital Holdings) president and CEO, and Kori-Ann Taylor (32 Mile Media) CMO; and promotes co-founder Alex Marsal to chief clinical and science officer.
---
Announcements and Implementations
MTI Physical Therapy in Seattle implements virtual visit capabilities from MedBridge.
---
Government and Politics
This Health Affairs article offers a list of financial resources for struggling community health centers.
Oklahoma's Department of Mental Health and Substance Abuse will equip 81 sites across the state with telemedicine-enabled tablets that patients can use to access mental health services on site or from home.
---
Other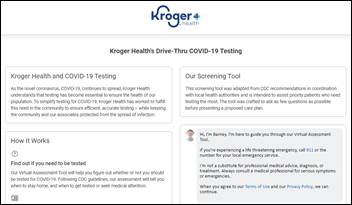 In Kentucky, several of Kroger's Little Clinic locations will begin offering free drive-thru testing for COVID-19. The grocery chain will cover the costs of testing, and has promised a 48-hour turnaround time through lab partner Gravity Diagnostics. Customers can make an appointment for testing through a new online portal, which also offers chatbot-based virus screening. Results will be added to the clinic's EHR, which I believe is Epic.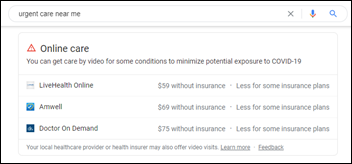 Google adds telemedicine services and pricing to search and map results associated with brick-and-mortar physician listings.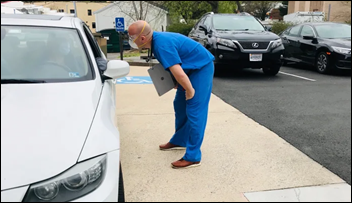 Sports Illustrated profiles several NFL team physicians who've transitioned from examining draft picks to caring for patients with COVID-19 symptoms. The NFL Physicians Society suspended all football-related medical visits last month.
The AMA puts together a list of resources, including telemedicine opportunities, for physicians interested in volunteering their services for COVID-19 care.
---
Sponsor Updates
Blog Posts
---
Contacts
More news: HIStalk.
Get HIStalk Practice updates.
Contact us online.
Become a sponsor.