Top News
Providers from a Wake Forest Baptist Health urology group in North Carolina put together a telemedicine implementation toolkit to help groups of any size quickly implement virtual visits. They point out that telemedicine capabilities already embedded in their EHR may not be the best fit, and suggest other alternatives that take the need for additional software into consideration. Staff and patient training is second only to technology: "Telemedicine is currently built as a physician platform. We changed it to be inclusive of nurses; we engaged our nursing staff into the platform so that they continue to do the same roles that they do in person."
---
Reader Comments
From It's All Good: "Re: Telemedicine company Medici raises $24 million in a Series B round. It will be very interesting to see how quickly the newly flush telemedicine vendors crash once reimbursement normalizes and demand for telemedicine isn't as profitable as in-person visits (again)." IAG's timely observation makes me think back to the heady days of the HITECH Act, when EHR vendors flourished as hopeful providers and government funding propelled the market forward. While the EHR bubble didn't burst overnight by any means, I can't help but think telemedicine's might be a bit more fragile, given the glut of vendors that have flooded the market in the last several years and the corresponding investor interest. Providers taking advantage of newly loosened telemedicine restrictions don't seem to be purchasing virtual visit technology as much as they are taking advantage of video-conferencing services like Zoom and Facetime, at least according to the stories I've come across over the last six weeks. I'd love to hear from MDs working in the trenches right now. Will telemedicine uptake during COVID-19 compel you to invest in telemedicine technology from recognized vendors, assuming you even have an IT budget after the pandemic is over? Email me or leave a comment below.
---
Webinars
None scheduled soon. Previous webinars are on our YouTube channel. Contact Lorre to present your own.
---
Announcements and Implementations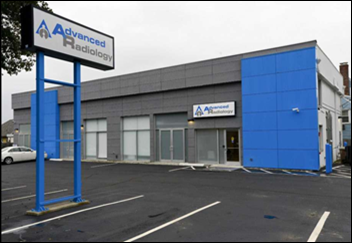 Advanced Radiology implements the EInformatics Wait in Car app, giving providers at its imaging sites in Connecticut the ability to safely manage patient flow and mitigate the spread of COVID-19.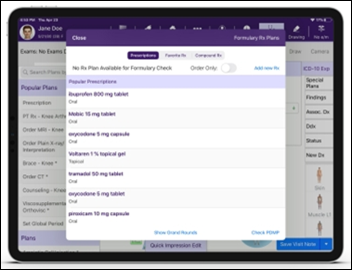 Modernizing Medicine integrates Appriss Health's PMP Gateway with its EMA EHR, giving prescribers the ability to tap into state-based prescription drug monitoring programs.
After seeing a 260% increase in video visits, house call company Landmark Health develops its own telemedicine app to help its patient population – the majority of which are seniors – stay connected to their Landmark providers.
The Indiana State Department of Health works with Zotec Partners to develop a COVID-19 screening and assessment app that also allows patients to schedule testing appointments.

DrChrono adds telemedicine capabilities to its tablet-based EHR.
---
People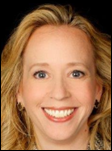 R1 RCM names Rachel Wilson (Iron Mountain Data Centers) EVP and CFO.
---
Research and Innovation
This study finds that care offered to 2,000 employees through membership-based primary care company One Medical results in lower utilization and less spending across a number of categories when compared with primary care offered to employees through other means.
---
Other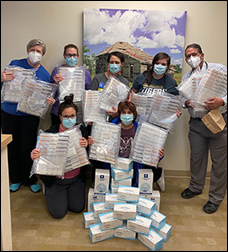 Value-based primary care company Aledade shares the details behind its recent procurement and distribution of $1.3 million worth of PPE to its practices, highlighting the fact that single practices have little purchasing power on their own when it comes to ordering in bulk from overseas.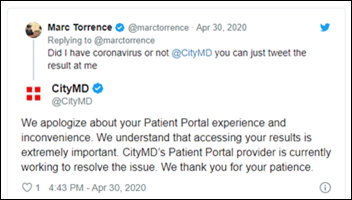 CityMD's EClinicalWorks patient portal suffers downtime. It seems the urgent care chain was alerted to the fact by disgruntled patients awaiting their COVID-19 test results. The New York City-based company will open three new clinics this month.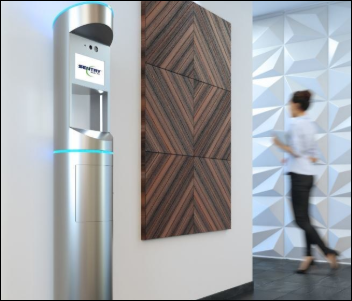 Municipal Parking Services develops the Sentry Health Kiosk, a COVID-19 screening station that grants admittance to buildings after visitors use hand sanitizer, and have their temperatures taken and recorded as acceptable.
---
Sponsor Updates
Blog Posts
---
Contacts
More news: HIStalk.
Get HIStalk Practice updates.
Contact us online.
Become a sponsor.