Top News
Canadian Well Health Technologies will acquire San Francisco-based Circle Medical for $14 million. Well Health became an investor in Circle Medical, which offers in-person and virtual primary care, several years ago.
Circle Medical's co-founders, both originally from Montreal, plan to open a software development office in that city. Well Health, which operates 20 clinics and sells EHR software, will commercialize Circle Medical's technology in Canada.
---
Webinars
September 3 (Thursday) 2 ET. "How Does A Global Pandemic Reshape Health IT? A Panel Discussion." Sponsor: Intelligent Medical Objects. Presenters: Rob Wallace, chief product officer, IMO; Andrew S. Kanter, MD, MPH, chief medical officer, IMO; Lori Kevin, VP of enterprise IT and security, IMO; Sahas Subramanian, MCA, enterprise architect, IMO. As COVID-19 continues to spread, regulation changes, code system updates, and an increased reliance on technology are making it hard to stay on top of the many ways the pandemic is altering health IT. What's more, we're confronting challenges that rely heavily on technological solutions – like accurate reporting tools or telehealth adaptations – and we need those solutions now. The panel of subject matter experts across the enterprise will share insights on how the global pandemic is reshaping the health IT world.
September 17 (Thursday) 1 ET. "ICD-10-CM 2021 Updates and Regulatory Readiness." Sponsor: Intelligent Medical Objects. Presenters: June Bronnert, MSHI, RHIA, VP of global clinical services, IMO; Theresa Rihanek, MHA, RHIA, mapping manager, IMO; Julie Glasgow, MD, clinical terminologist, IMO. IMO's top coding professionals and thought leaders will review additions, deletions, and other revisions to the 2020 ICD-10-CM code set that will be critical in coding accurately for proper reimbursement.
Previous webinars are on our YouTube channel. Contact Lorre to present your own.
---
Acquisitions, Funding, Business, and Stock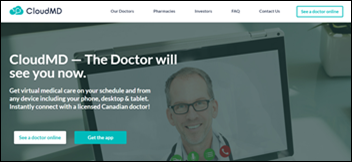 Canadian health IT company CloudMD reports a jump in Q2 revenue of 163%, aided by strong adoption of its telemedicine software by traditional practices, pharmacies, and retail locations.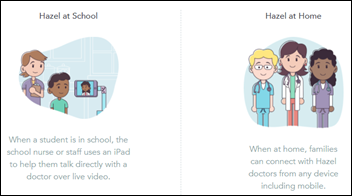 Hazel Health raises $33.5 million in a Series C round led by Bain Capital and Owl Ventures. The telemedicine startup offers school- and home-based virtual consults for primary and mental healthcare.
---
Announcements and Implementations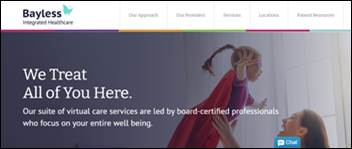 Bayless Integrated Healthcare (AZ) will implement Saykara's app-based, automated clinical documentation software across its eight locations in Phoenix.
Oak Street Health will open primary and urgent care clinics at three Walmart supercenters in the Dallas-Forth Worth area. The clinics will serve patients of all ages, though the company's focus is still on Medicare beneficiaries.
---
Government and Politics
In an effort to help prevent prescription abuse and fraud, New Jersey officials have allocated $1.2 million to help providers and pharmacists integrate their records systems with the state's PDMP.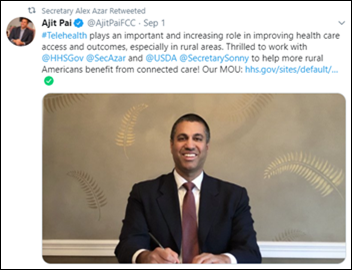 The FCC, USDA, and HHS will work together on a Rural Telehealth Initiative in hopes of increasing patient access to broadband services and technology in rural areas across the country. The agencies will establish an interagency task force to develop recommendations and guidelines, and to share information.
---
Other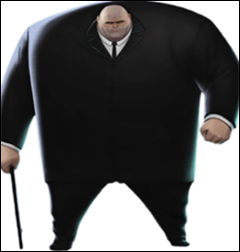 A federal judge sentences clinic manager Aleksandr Pikus to 13 years in jail and a $40 million restitution payment for his "kingpin" role in a decade-long money-laundering, conspiracy, and kickback scheme that involved clinics in Brooklyn and Queens. In addition to his role as organizer, Pikus also used physical threats to ensure co-conspirators played their part in bilking Medicare and Medicaid.
---
Sponsor Updates
Blog Posts
---
Contacts
More news: HIStalk.
Get HIStalk Practice updates.
Contact us online.
Become a sponsor.