Top News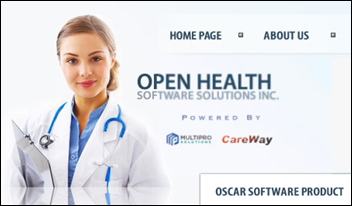 Canadian Well Health Technologies acquires Open Health Software Solutions, which helps practices primarily in Ontario with the selection and implementation of open-source software.
Well Health made a dozen acquisitions last year, including virtual and in-person primary care provider Circle Medical Technologies, its first in the US.
---
HIStalk Practice Musings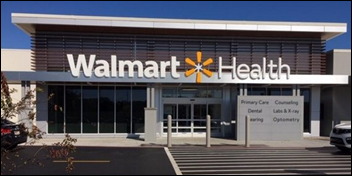 My dentist office's reminder to confirm an upcoming appointment prompted me to do something I had been contemplating for several weeks – try out the dental clinic at my local Walmart Health. I decided to give it a shot for two reasons: As a cash-paying patient, its fees are half that of the office I've been going to for years; and, should I choose to make it my regular dental practice, would negate the need to pay for an annual discount policy through DentRite. The fact that Walmart Health is less than 15 minutes from my house, making the commute far more convenient, is a fact that – to me – is almost equal in value to the financial savings.
As a new patient, I expected to fill out several forms. But, given the COVID times we live in, I was disappointed that the forms weren't accessible online from the comfort of my home. Upon arrival, I was screened for COVID and checked in via tablet, but then was handed a clipboard with several intake forms. I know from previous visits with family members that the medical side of the clinic uses Athenahealth, and so I'm wondering if perhaps the dental side of things hasn't yet implemented digital intake capabilities.
The appointment went as expected (thankfully, no sign of gingival hirsutism, as Mr. H so graphically mentioned in a post last week), with the highlight being that I overheard the person being treated next to me talking about her work in informatics with Epic. Health IT can be such a small world at times!
Given the savings in time and money, I'm fairly certain I'll make Walmart Health my regular dental provider from now on. I'd love to hear from any other readers who've had experiences at Walmart Health – either as patients or staff. Now that Amazon seems to be out of the picture (for the moment), do you think Walmart is poised to give traditional medical groups and practices a run for their money? Email me with your thoughts.
---
Webinars
January 13 (Wednesday) 2 ET. "The One Communication Strategy Clinicians Need Now." Sponsor: PerfectServe. Presenters: Clay Callison, MD, CMIO, University of Tennessee Medical Center; Nicholas E. Perkins, DO, MS, hospitalist and physician informaticist, Prisma Health. Healthcare organizations are leveraging their current investments and reducing their vendor footprint, so there's no room for clutter in healthcare communication. The presenters will describe the one communication strategy that clinicians and organizations need today, how to improve patient experience and protect revenue, and how to drive the communication efficiency of clinical teams.
Previous webinars are on our YouTube channel. Contact Lorre to present your own.
---
Acquisitions, Funding, Business, and Stock

HealthLynked, a care management network and developer of healthcare technology, will launch a telemedicine service in March, initially focusing on women's health. The service will be available from within the company's Oohvie women's health app, which HealthLynked launched in October.

Nebraska Health Information Initiative rebrands to CyncHealth to better reflect its role in helping healthcare organizations exchange health data and synchronize care coordination efforts. CyncHealth organizations include the Nebraska Healthcare Collaborative, NEHII Foundation, NEHII Shared Services, and the Iowa Health Information Network.
---
Announcements and Implementations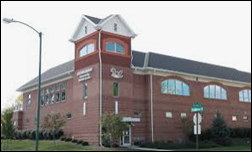 Rocking Horse Community Health Center implements telemedicine capabilities and electronic fax software from Updox at its four locations in Ohio.
---
Government and Politics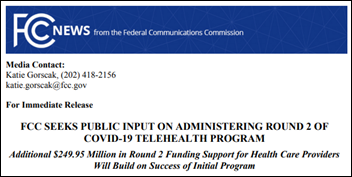 The FCC seeks comments on the metrics it should use to evaluate applications for the second round of funding for its COVID-19 Telehealth Program. The first round of $200 million went to assist 539 organizations across the country with acquiring and implementing the necessary hardware and software to offer virtual visits. Comments are due January 19.
---
Other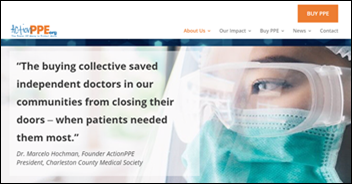 The Charleston County Medical Society in South Caroline has shipped over 3.4 million pieces of PPE to 2,606 independent practices through its ActionPPE buying collective. The society launched the grass-roots effort in March and now works with organizations in Arizona, West Virginia, and Pennsylvania.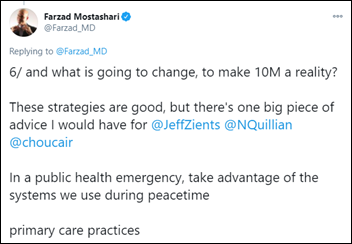 Aledade CEO and former national coordinator Farzad Mostashari, MD offers several interesting tweet threads on the COVID-19 vaccine pipeline and the role primary care physicians could play in administering shots if management of the supply chain allowed.
---
Sponsor Updates
Nordic releases a new podcast, "Creating and leveraging a successful Super User program."
Blog Posts
---
Contacts
More news: HIStalk.
Get HIStalk Practice updates.
Contact us online.
Become a sponsor.