Top News
Toronto-based Skylight Health Group (fka CBS Insights) applies for listing on the Nasdaq. The group operates 30 medical clinics in 14 states, offers a subscription telemedicine service, and has developed its own EHR. Skylight acquired six-facility US Primary and Urgent Care for $14.3 million earlier this month.
---
Webinars
January 28 (Thursday) 12:30 ET: "In Conversation: Advancing Women Leaders in Health IT." Sponsor: Intelligent Medical Objects. Presenters: Tabitha Lieberman, SVP of clinical and revenue cycle applications, Providence St. Joseph Health; Ann Barnes, CEO, IMO; Deanna Towne, MBA, CIO, CORHIO; Amanda Heidemann, MD, CMIO, CMIO Services, LLC. IMO CEO Ann Barnes brings together a panel of female health executives for a results-oriented discussion on how managers and C-suite executives can address diversity and inclusion in their organizations. From STEM education to mentoring and networking, the "COVID effect" on women in the workplace, to matters of equity, there's no better time to talk openly about these issues to help generate meaningful change in healthcare.
Previous webinars are on our YouTube channel. Contact Lorre to present your own.
---
Acquisitions, Funding, Business, and Stock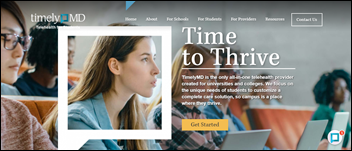 TimelyMD secures a $60 million Series B investment from JMI Equity. The telemedicine company offers mental health, psychiatry, and health coaching services to college and university students across the country.

Equality Health, which manages a network of value-based, tech-enabled primary care practices, secures funding from General Atlantic and acquires consulting firm Daraja Services.
---
Announcements and Implementations
Exer Urgent Care implements virtual line notification capabilities from Pomelo Health.

Upstate Family Health Center (NY) selects Orb Health's Enterprise Virtual Care technology to improve chronic care management between patient visits.
Workplace clinic operator Concentra replaces its telemedicine software from Amwell with virtual visit technology from EVisit.
Ortho Florida integrates Rectangle Health's Practice Management Bridge payment and billing software with its Intergy EHR from Greenway Health.

Online form builder Jot Form develops the Health app, giving providers access to HIPAA-compliant data collection for patient intake, payments, surveys, team collaboration, and business associate agreements.
---
Other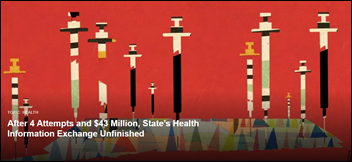 The Connecticut Examiner updates readers on the plight of HIE in Connecticut: The state has spent $43 million over 14 years on three failed efforts. The fourth and most current saw its leader resign in early December, leaving the remaining CONNIE team members with the unenviable task of overcoming "organizational skepticism after a legacy of past failed efforts." Contractors CedarBridge and Velatura have yet to finish tasks they've already been paid for, and in fact have had their contacts extended. Technology developed by CRISP and UConn Analytics & Information Services is complete but can't be shared until agreements are finalized between the state and providers. Twenty three small- to medium-sized providers have signed on so far, while just one health system has expressed strong interest.
---
Contacts
More news: HIStalk.
Get HIStalk Practice updates.
Contact us online.
Become a sponsor.