Top News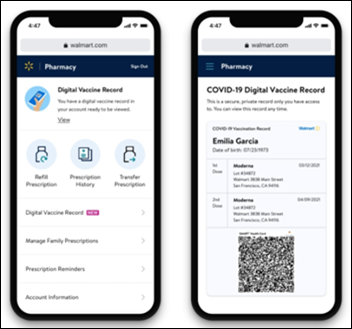 Walmart offers patrons who receive the COVID-19 vaccine at its pharmacies the ability to digitally store their vaccine records via their Walmart.com accounts. The secure digital wallet technology is based on the Vaccination Credential Initiative's Smart Health Cards standard, meaning it can be securely shared with other apps like Clear's Health Pass.
Walmart will soon roll out the feature to Sam's Club members, and is working on functionality that will allow families to bundle their records.
---
HIStalk Practice Musings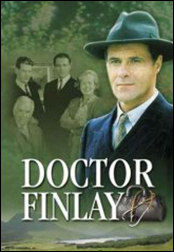 Watching: Doctor Finlay, a mid-90s Scottish television series that chronicles the lives (and cases) of GPs working in a rural Scottish practice, just after WWII and right before the launch of the National Health Service. I'm one season in and it's been a quaint look back at what primary care must have been like when house calls were common and record-keeping was strictly a pen-and-paper affair. The influence of the series was still being felt as recently as five years ago, with a local medical recruiting firm complaining that the show's now outdated portrayal of the rural Scottish GP had hindered recruitment efforts.
---
HIStalk Practice Announcements and Requests
Mr. HIStalk was recently required to purge inactive email subscribers from the HIStalk Practice Updates list. I'd appreciate it if you'd enter your email address again just to make sure you didn't fall off the list by mistake (you won't get duplicate emails regardless). You'll continue to receive the latest ambulatory health IT news while inflating my fragile ego at the same time.
---
Webinars
June 24 (Thursday) 2 ET: "Peer-to-Peer Panel: Creating a Better Healthcare Experience in the Post-Pandemic Era." Sponsor: Avtex. Presenters: Mike Pietig, VP of healthcare, Avtex; Matt Durski, director of healthcare patient and member experience, Avtex; Patrick Tuttle, COO, Delta Dental of Kansas; Chad Thorpe, care ambassador, DispatchHealth. The live panel will review the findings of a May 2021 survey about which factors are most important to patients and members who are interacting with healthcare organizations. The panel will provide actionable strategies to improve patient and member engagement and retention, recover revenue, and implement solutions that reduce friction across multiple channels to prioritize care and outreach.
June 30 (Wednesday) 1 ET. "From quantity to quality: The new frontier for clinical data." Sponsor: Intelligent Medical Objects. Presenters: Dale Sanders, chief strategy officer, IMO; John Lee, MD, CMIO, Allegheny Health Network. EHRs generate more healthcare data than ever, but that data is of low quality for secondary uses such as population health, precision medicine, and pandemic management, and its collection burdens clinicians as data entry clerks. The presenters will review ways to reduce clinician EHR burden; describe the importance of standardized, harmonious data; suggest why quality measures strategy needs to be changed; and make the case that clinical data collection as a whole should be re-evaluated.
Previous webinars are on our YouTube channel. Contact Lorre to present your own.
---
Acquisitions, Funding, Business, and Stock

Greenway Health opens an office in Bangalore, India, with plans to hire 300 employees for that office by the end of the year. The EHR vendor also has offices in Tampa, Florida, and Carrolton, Georgia.
---
People

Varun Choudhary, MD (Magellan Health) joins Talkspace as chief medical officer.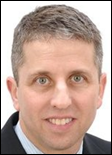 Healthmap Solutions names Howard Shaps, MD (Centene) chief clinical officer.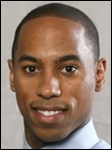 Apollo Medical promotes Jeremy Jackson, MD to chief quality officer.


CloudMD promotes Karen Adams to president. She takes over from Amit Mathur, OD who will assume the new role of president of US operations.
---
Announcements and Implementations
Senior-focused primary care company Agilon Health implements care coordination and workflow management software from LeadingReach across its Pioneer Physicians Network in Ohio.
---
Government and Politics

Former practice office and payroll manager Shirley Taylor is sentenced to 33 months in prison and ordered to pay $1.2 million in restitution for stealing the same amount over a four-year period. Taylor inflated her paycheck and wrote unauthorized company checks, none of which were noticed until a new office manager joined the August, Georgia practice in 2020.
---
Other
The local news covers the role pediatricians have been playing in vaccinating adults, typically – but not always – the family members of their younger patients: "The first week or so, I saw patients and their parents. Then I started seeing grandparents and neighbors," says North Carolina-based Kidz Pediatrics physician Lourdes Pereda, MD. "Then there were people I've never seen in my life, and I was happy because that means we're vaccinating more of the community."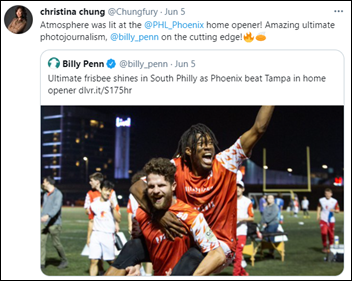 A local news site profiles dermatologist Christina Chung, MD and her journey to becoming a co-owner (along with husband Jeff George, MD) of the Philadelphia Phoenix ultimate frisbee team. George introduced her to the sport when they began dating, both eventually joining the Philadelphia Area Disc Alliance and co-captaining a team to top-place rankings. They bought the Phoenix in 2019.
---
Sponsor Updates
EClinicalWorks releases a new podcast, "Making the Most of EClinicalWorks Billing and RCM."
Blog Posts
---
Contacts
More news: HIStalk.
Get HIStalk Practice updates.
Contact us online.
Become a sponsor.