Top News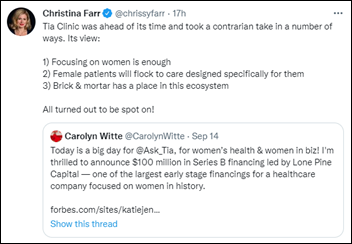 Women's healthcare provider Tia raises $100 million in a Series B funding round led by Lone Pine Capital. It has raised $132 million since launching in 2017.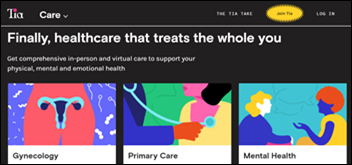 The New York City-based company will use the new funding to expand its membership-based virtual and in-person services, and enter new markets like San Francisco.
Tia reports that more than 60% of its care is delivered virtually.
---
Webinars
September 16 (Thursday) 1 ET. "Patient Acquisition and Retention: The Future of Omnichannel Virtual Assistants." Sponsor: Orbita. Presenters: Harris Hunt, SVP growth product, Cancer Treatment Centers of America; Patty Riskind, MBA, CEO, Orbita; Nathan Treloar, MSc, co-founder and COO, Orbita. Consumers want the same digital healthcare experience from healthcare that they get in online shopping, banking, and booking reservations, and the pandemic has ramped up the patient and provider need for frictionless access to healthcare resources and services. Health systems can improve patient acquisition and retention with the help of omnichannel virtual assistants that engage and delight. Discover how to open and enhance healthcare's digital front door to offer care that goes beyond expectations.
September 16 (Thursday) 1 ET. "ICD-10-CM 2022 Updates and Regulatory Readiness." Sponsor: Intelligent Medical Objects. Presenters: June Bronnert, MSHI, RHIA, VP global clinical services, IMO; Theresa Rihanek, MHA, RHIA, mapping manager, IMO; Julie Glasgow, MD, clinical terminologist, IMO. IMO's top coding professionals and thought leaders will discuss the coding changes in the yearly update to allow your organization to prepare for a smooth transition and avoid negative impacts to the bottom line. The presenters will review new, revised, and deleted codes; highlight revisions to ICD-10-CM index and tabular; discuss changes within Official Coding Guidelines, and review modifier changes.
October 6 (Wednesday) 2 ET. "Solving Patient Experience Challenges Through a Strong Digital Front Door." Sponsor: Avtex. Presenters: Mike Pietig, VP of healthcare experience, Avtex; Jamey Shiels, MBA, VP of consumer experience, Advocate Aurora Health; Chad Thorpe, care ambassador, DispatchHealth. Patients expect healthcare providers to offer them the same digital experience they get when banking, shopping, and traveling. This webinar will describe how two leading healthcare providers created digital front doors that exceed patient expectations, improve patient outcomes, drive loyalty and acquisition, and future-proof their growth strategies in competitive markets.
October 6 (Wednesday) 1 ET. "A New, Streamlined Approach to Documentation and Problem List Management in Cerner Millennium." Sponsor: Intelligent Medical Objects. Presenters: Deepak Pillai, MD, physician informaticist, IMO; David Arco, product manager, IMO; Nicole Douglas, senior product marketing manager, IMO. The IMO Core CSmart app, which is available for Cerner Millennium in the Cerner code App Gallery, helps providers document with specificity, make problem lists more meaningful, and improve HCC coding. This webinar will review the challenges and bottlenecks of clinical documentation and problem list management and discuss how streamlined workflows within Cerner Millennium can help reduce clinician HIT burden.
Previous webinars are on our YouTube channel. Contact Lorre to present your own.
---
Acquisitions, Funding, Business, and Stock
DuPage Medical Group, Chicago's largest independent physician group, will change its name to Duly Health and Care, reflecting its expansion beyond DuPage County. The group, which experienced a nearly week-long network outage in July, has raised $1.7 billion.
---
Announcements and Implementations
Northwest Treatment in Oregon implements EnSoftek's DrCloudEHR.
---
Other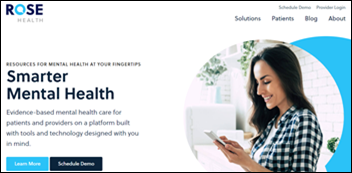 Practicing what they preach: Mental healthcare startup Rose Health shuts down for a week so that its employees can rest and recharge (while still being paid) before the company embarks on raising a $5 million Series A funding round. Rose Health, which currently serves 30 physician groups, is also preparing to pilot its platform with several ACOs, coordinated care providers, and health systems. Founder and CEO Kavi Misri stresses that "As a mental health company, we want to practice what we preach and even though we are losing a week of operations, we will gain benefit for recharged, refreshed Rose team members who will be ready to take on Q4 as we onboard these large practices as well as focus on raising a $5 million Series A."
Patients express frustration and disbelief when they find out that Gastroenterology Consultants in Houston waited nearly seven months to notify them of a January data breach, and that the practice didn't receive any proof that patient data had been deleted after a resolution had been negotiated. As one patient put it, "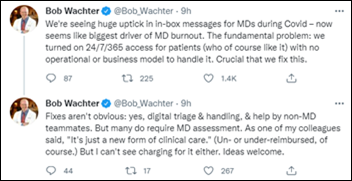 While this tweet is no doubt reflective of physicians working within UCSF Health, I wonder if physicians working in smaller clinical environments have experienced the same thing. I'd love to hear from readers who have or who are currently dealing with how to make this work from a clinical and business standpoint.
---
Sponsor Updates
Blog Posts
---
Contacts
More news: HIStalk.
Get HIStalk Practice updates.
Contact us online.
Become a sponsor.