Top News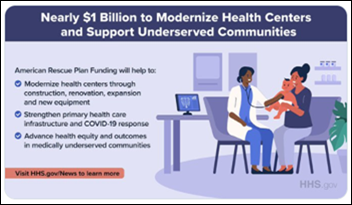 HRSA awards $1 billion to 1,292 health centers across the country for capital improvements and equipment purchases including telemedicine technology.
---
HIStalk Practice Musings

There's been some interesting chatter around the Walmart Health/Epic news over at HIStalk2.com. Reader Elizabeth H.H. Holmes observed: "I think Walmart is a lot more interesting as a market entrant than previous tech giants. Walmart has plenty of IT acumen, and they have a lot more experience with retail and logistics than the others. The optimist in me sees the unique potential for Walmart to help combat social determinants of health or provide better access to primary care. The skeptic in me sees the potential for Walmart to also go all-in on rent seeking behavior that drags down the medical industrial complex. Wherever they go I have a hunch that Walmart will stick around much longer than the others who have tried."
That got me to thinking about my recent visit to my Walmart Health's dental clinic for a $25 cleaning (without insurance). The hygienist and I got to talking about how much she likes her job. She mentioned that she enjoys having the latest technology to work with. (The dental clinic had ultra-modern X-ray machines my previous dentist did not.) She also told me that working there has made her realize that the profession has failed its patients in terms of making services too expensive. She's found it very rewarding to take care of people who previously hadn't been able to afford routine dental care.
I think Walmart's foray into clinic-based and virtual care will definitely succeed in markets like my somewhat rural area where patients need affordable, easily accessible care. At the very least, Walmart and the "tech giants" are making the "medical industrial complex" wake up to the fact that there's a different way to bring healthcare to consumers.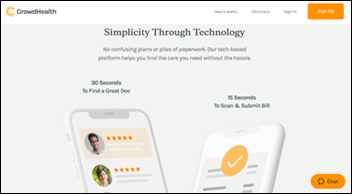 I'm not sure that companies like CrowdHealth would be able to raise the $6 million it just did had non-healthcare entities like Walmart disrupted the status quo. The tech-based insurance startup offers healthcare coverage for $175 a month that includes unlimited virtual care, annual wellness visits, discounted prescriptions, and physician quality scores.
---
Webinars
October 6 (Wednesday) 2 ET. "Solving Patient Experience Challenges Through a Strong Digital Front Door." Sponsor: Avtex. Presenters: Mike Pietig, VP of healthcare experience, Avtex; Jamey Shiels, MBA, VP of consumer experience, Advocate Aurora Health; Chad Thorpe, care ambassador, DispatchHealth. Patients expect healthcare providers to offer them the same digital experience they get when banking, shopping, and traveling. This webinar will describe how two leading healthcare providers created digital front doors that exceed patient expectations, improve patient outcomes, drive loyalty and acquisition, and future-proof their growth strategies in competitive markets.
October 6 (Wednesday) 1 ET. "A New, Streamlined Approach to Documentation and Problem List Management in Cerner Millennium." Sponsor: Intelligent Medical Objects. Presenters: Deepak Pillai, MD, physician informaticist, IMO; David Arco, product manager, IMO; Nicole Douglas, senior product marketing manager, IMO. The IMO Core CSmart app, which is available for Cerner Millennium in the Cerner code App Gallery, helps providers document with specificity, make problem lists more meaningful, and improve HCC coding. This webinar will review the challenges and bottlenecks of clinical documentation and problem list management and discuss how streamlined workflows within Cerner Millennium can help reduce clinician HIT burden.
Previous webinars are on our YouTube channel. Contact Lorre to present your own.
---
Acquisitions, Funding, Business, and Stock
Austin, TX-based medical billing company EqualizeRCM acquires competitor Practice Resource Network for an undisclosed sum.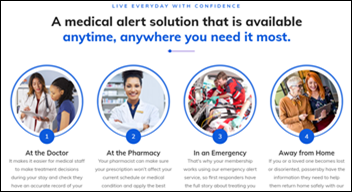 TelaCare Health Solutions acquires the assets of ViewMyID Health, a membership-based health data management service.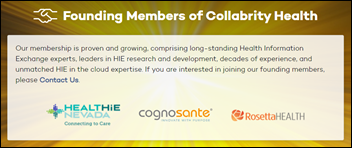 Collabrity Health launches as a member-based HIE services company.
---

Care communication company Updox announces GA of mobile patient payment capabilities using software from PaySimple.
Professional Medical Corp., and independent physician organization based in Michigan, implements Persivia's CareSpace virtual care and population health technology across its risk-sharing programs with multiple payers.
---
Other
Coos County Family Health Services in New Hampshire resumes normal IT operations after a ransomware attack on September 20 forced it to take its systems offline for several days.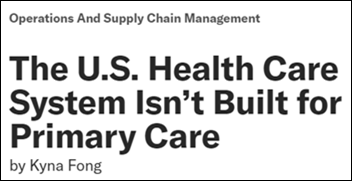 This Harvard Business Review article calls out the healthcare industry for placing too much importance on (and investment in) process-based, technology-enabled primary care to the detriment of the physician-patient relationship:
"Checklists and templates may bring value for specific services, such as ordering a mammogram or administering vaccines. But the emphasis on discrete services and processes should not come at the expense of timely access to comprehensive longitudinal care with a physician you know and trust; we must not lose sight of the long-term outcomes in the quality and cost of care that should be the priority. In fact, I often joke that consciousness is a good place to draw the line: By all means use a checklist during surgery or in the ICU, but if your patients are awake and talking, listen to them."
---
Sponsor Updates
Blog Posts
---
Contacts
More news: HIStalk.
Get HIStalk Practice updates.
Contact us online.
Become a sponsor.