Top News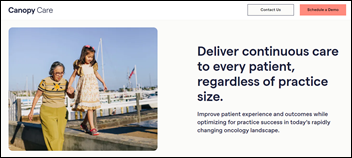 Canopy (formerly Expain Health) launches its platform of EHR-integrated technologies for oncology practices, including care management, analytics, remote patient monitoring, workflow, and automated reimbursement, alongside securing a $13 million funding round.
---
HIStalk Practice Announcements and Requests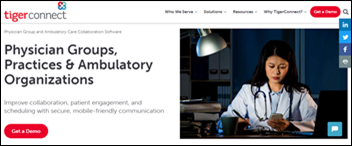 Welcome to new HIStalk Practice Platinum Sponsor TigerConnect. The Santa Monica, CA-based company offers the healthcare industry's most widely adopted and integrated communication platform, bringing together all aspects of care collaboration, physician and resident scheduling, patient engagement, and alarm management into a single, scalable, and mobile solution. TigerConnect modernizes the way doctors, nurses, care teams, staff, and patients communicate – inside a facility, across multiple locations, and throughout the healthcare ecosystem. A cornerstone for digital transformation, the TigerConnect platform integrates with EHRs, nurse call, scheduling, and other systems to unify communication, streamline workflows, reduce costs, and improve patient outcomes. HIPAA-compliant and HITRUST-certified, TigerConnect delivers 99.99% verifiable uptime and is trusted by more than 7,000 healthcare organizations across the US and Canada. Thanks to TigerConnect for supporting HIStalk Practice.
---
Webinars
April 6 (Wednesday) 1 ET. "19 Massive Best Practices We've Learned from 4 Million Telehealth Visits." Sponsor: Mend. Presenter: Matt McBride, MBA, founder, president, and CEO, Mend. Virtual visits have graduated from a quickly implemented technical novelty to a key healthcare strategy. The challenge now is to define how telehealth can work seamlessly with in-person visits. This webinar will address patient satisfaction, reducing no-show rates to single digits, and using technology to make telehealth easy to use and accessible for all patients. The presenter will share best practices that have been gleaned from millions of telehealth visits and how they have been incorporated into a leading telemedicine and AI-powered patient engagement platform.
Previous webinars are on our YouTube channel. Contact Lorre to present your own
---
People

Sycle, an audiology-focused practice management vendor, promotes Joel Lockwood to president.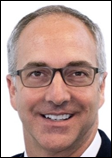 Steve DeBiasi (EmergeOrtho) joins practice consulting firm Curi as CEO if its new advisory business.
---
Announcements and Implementations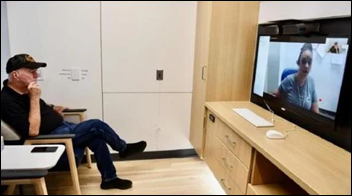 The VFW in Athens, TX installs a telemedicine pod from Philips so that veterans can take advantage of virtual appointments with their VA or Mesquite Vet Center providers.
Eastern Iowa Health Center partners with Infinity Health, a local FQHC, to offer its patients virtual psychiatric appointments with Infinity providers.
---
Other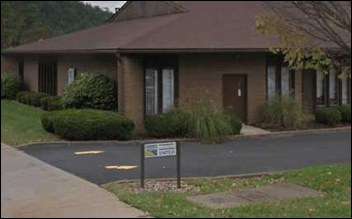 Wheeling Health Right, a primary care clinic operated by United Way, notifies patients of a January cyberattack that forced it to decrypt, recover, and rebuilt its systems. It has also implemented multi-factor authentication for employee email accounts and installed endpoint detection and response software.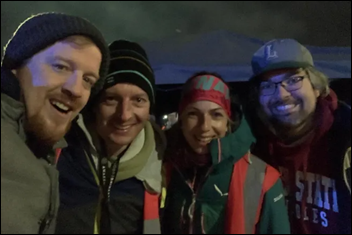 The local paper profiles John Turner, MD (right) a family physician based in Tallahassee, FL who felt compelled to offer medical aid to Ukrainian refugees along the Ukraine/Poland border. Turner traveled to Poland without any local contacts and no set plan, despite trying to get in touch with local missionary organizations. His path crossed with a group of German physicians and nurses staying at his hotel and affiliated with a missions organization who were also intent on offering their medical services. Along with them, Turner ended up working 24 hours at the border, supplying medical care, food, clothes, and toys.
"It was a crazy experience across the border," Turner said. "Cars were lined up for miles, people were lined up for miles. Some had been standing in line for 30 hours. It was freezing conditions, literally, snowing the whole time. I am proud because we did some good work. What was so striking, however, was once the refugees crossed into Poland, the support was so amazing. There were tons of volunteers, translators, supplies. The Polish people are so amazing."
---
Sponsor Updates
Blog Posts
---
Contacts
More news: HIStalk.
Get HIStalk Practice updates.
Contact us online.
Become a sponsor.