Top News

Greenway Health promotes Pratap Sarker to CEO, effective January 1. Sarker replaces Richard Atkin, who will take on the role of executive chairman.
---
Webinars
December 8 (Wednesday) 1 ET. "What Lies Ahead for the EHR's Problem List." Sponsor: Intelligent Medical Objects. Presenters: James Thompson, MD, physician informaticist, IMO; Deepak Pillai, MD, MBA, physician informaticist, IMO; Jonathan Gold, MD, MHA, MSc, physician informaticist, IMO. The EHR problem list can be cluttered with redundant, missing, and outdated diagnoses, and displays don't always help clinicians process the available data correctly. The presenters will discuss how improvements in creating, maintaining, and displaying problems could reduce errors and decrease the cognitive load of clinicians while continuing to optimize reimbursement.
December 9 (Thursday) 1:30 ET. "Cone Health: Creating Extreme Efficiencies in Surgical Services." Sponsor: RelayOne. Presenters: Wayne McFatter, RN, MSN and Sharon McCarter, RN co-directors of perioperative services, Cone Health. The presenters will discuss how they have empowered the entire surgical care team, including vendor representatives, to get real-time access to surgery schedules and case requirements in the palms of their hand. RelayOne CEO Cam Sexton will also present the findings of a recent study of 100 hospital leaders regarding their operating room optimization plans for 2022.
December 14 (Tuesday) 1 ET. "Using Cloud to Boost AI and Enterprise Imaging." Sponsor: CloudWave. Presenters: Larry Sitka, MS, VP/CSIO of enterprise applications, Canon Medical Informatics; Jacob Wheeler, MBA, senior product manager, CloudWave. Enterprise imaging has remained a holdout of data center complexity despite the benefits the cloud offers. The presenters will discuss innovative ways to reduce complexity and lead with disruptive technology using AI, enterprise imaging, and the cloud.
Previous webinars are on our YouTube channel. Contact Lorre to present your own.
---
Acquisitions, Funding, Business, and Stock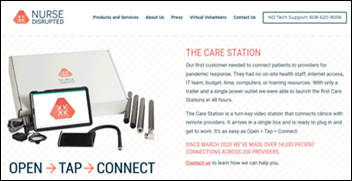 Nurse Disrupted raises $700,000 in seed funding. Co-founded by former Epic nursing innovation and project lead Bre Loughlin, RN the telehealth startup helps to provide remote care for rural health clinics, shelters, and community organizations that don't have on-site clinicians.
---
Announcements and Implementations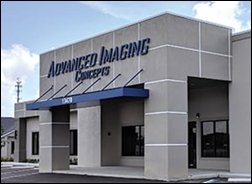 Advanced Imaging Concepts in Florida implements RIS, PACS, speech recognition, care communication, and physician portal software from ERAD.
---
Research and Innovation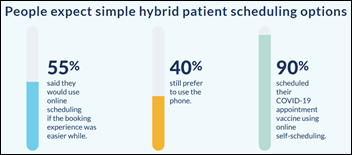 A patient engagement survey of 500 consumers conducted last summer has found that:
Nearly 40% had not had an in-person visit during the previous 12 months, though 53% did report an increase in use of telemedicine, with convenience and safety being top reasons for the switch to virtual care.
Of those who scheduled in-person appointments over the phone, nearly 40% were dissatisfied with the experience, largely due to long wait times.
Sixty-four percent of patients preferred virtual waiting rooms over their physical counterparts.
A third cited email as their preferred method of communicating with their provider.
---
Other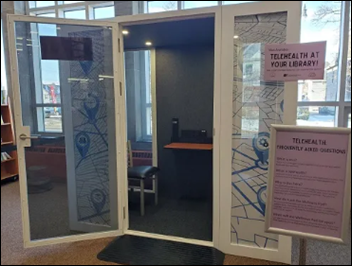 The Prendergast Library in Western New York installs a telemedicine booth that patrons may reserve for virtual care appointments. The unit was funded, fittingly enough, by a grant from the National Library of Medicine.
---
Contacts
More news: HIStalk.
Get HIStalk Practice updates.
Contact us online.
Become a sponsor.